The world's largest giant panda breeding center in Sichuan province will be set up by the end of this year, with a capacity to house about 200 of the endangered animals.
The new nature reserve will cover 1 sq km, including 20 outdoor homes and a 20,000-sq-m playground, Zhang Hemin, chief of the administrative bureau of the Wolong Nature Reserve, which leads the building of the new facility, said.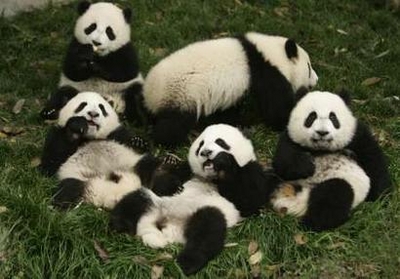 Panda cubs eat apples at the Chengdu Research Base of Giant Panda Breeding in Chengdu, Sichuan province, April 17, 2008. The giant panda is one of the world's most endangered species and is found only in China. An estimated 1,600 wild pandas live in nature reserves in Sichuan, Gansu and Shaanxi provinces, and 217 are kept in captivity. [Agencies]
The Wolong Nature Reserve covers 2,000 sq km and is China's first and largest reserve devoted to panda conservation.
By the end of last year, the reserve had bred 130 captive pandas from an original 10, the largest panda species group in the world.
Eight young pandas from the reserve will also leave their habitat for Beijing next month, to allow visitors from different parts of the world a glimpse of the endangered animals during the Olympic Games.
The increase in the number of pandas reflects the country's efforts in protecting animals and plants by establishing nature reserves, officials said.
"The country's natural resources have benefited from conservation," said Lei Guangchun, director of the nature reserve department of Beijing Forestry University.
The new reserve itself is part of green efforts that have seen more than 2,400 nature reserves of various kinds being set up, covering more than 15 percent of the nation's land area, official figures showed.
"It is a significant increase, particularly when you compare it with the world average, which is 10 percent," Lei said.
Nationwide, 47 percent of wetland, 30 percent of desert, 20 percent of natural premier forest, 85 percent of endangered wildlife and plants, and 65 percent of vascular plant communities are under protection.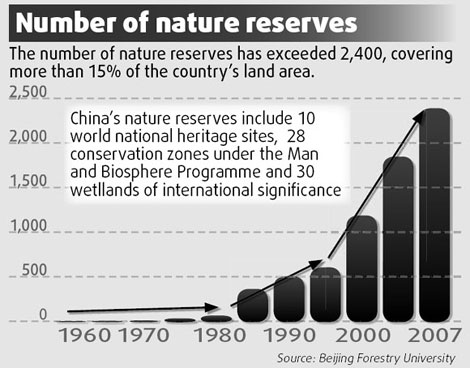 However, environmental experts have said that challenges remain on how to set up a long-term, effective and legislative mechanism to balance human and wildlife development, and to compensate those who compromise their living standards to protect the environment.
"For a long time, China has been establishing nature reserves to rescue or protect flora and fauna. It is time to think about how to better manage and achieve the sustainability of these established nature reserves," Lei said.
Li Zhong, an official in charge of the nature reserves office with the State Forestry Administration, also emphasized the importance of increasing investment in such reserves at all levels.