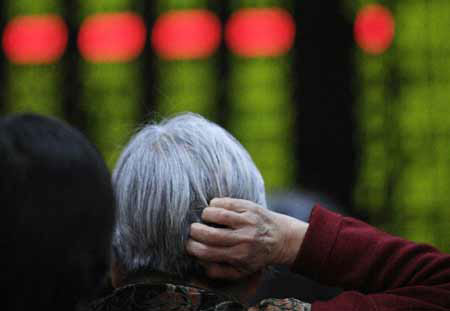 An investor looks at an electronic board of stocks at a stock trading hall in Shanghai, April 18, 2008. [Xinhua]
The securities regulator Sunday ordered shareholders to sell stocks on the block trading system if they expect to sell a large amount of shares freed from the lock-in period.
When more than 1 percent of a listed firm's total shares are sold within a month, the holders should use the block trading system, the China Securities Regulatory Commission said.
At the news, China's major stock indexex opened more than 6 percent higher on Monday. The Shanghai Composite Index rose 6.80 percent and the Shenzhen Component Index was up 7.46 percent.
Analysts said the measure is aimed at shoring up the stock market after the benchmark Shanghai Composite Index plunged by 49.5 percent from its all-time high in October.
Investor sentiment is weak on lingering concerns that the huge amount of such shares would flood the market, suck up cash and therefore sink share prices.
"If such shares are all to be traded on the bid trading system, the trading will be low-efficient as the volume is often restricted by the buying interest on the secondary market," a CSRC spokesman said in a statement.
"The trading will also exert huge pressure on the share prices and twist the pricing mechanism," he said.
"The move will help ease the pressure on the secondary market and the impact on the pricing mechanism on the bid trading system, and stabilize investor expectations on the reduction of the holdings of such shares."
The move will promote a stable and healthy development of China's emerging and transitional capital market, said the spokesman. The guideline will take effect toady.
The country's stock market is faced with complicated internal and external factors, the spokesman noted, adding the external factors include volatility on the global financial markets, its impact on the emerging markets, and the sustained price rises of energy, resources, and grain.