London – London's freezing temperature and cold drizzle had not stopped more than one thousand Chinese expatriates from convening a silence demonstration in front of the Parliament building in Old Palace Yard on April 19. The protest targeted BBC and other western media companies' distorted and slanted reports on Tibetan separatist violence and on the London leg of Olympics torch relay.
Unlike other rallies and protests, London demonstration today was reinforced by the silent manner and strong disciplines forestalled by the participants. Jojo, a tourist passing by the venue told reporter that she is really impressed by the quiet demonstrators who dressed in white shirts and covered their face with white masks with letter-BBC on them, in a way to show their discontent with BBC's news distortion and bias.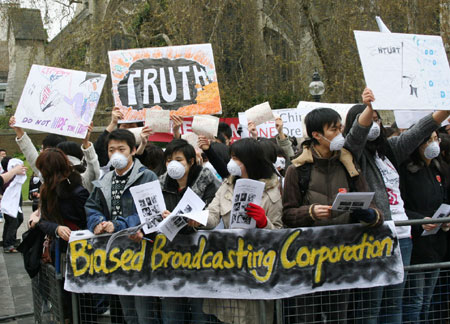 Thousands of Chinese students and expatriates convene in Old Palace Yard in London on April 19, 2008, to protest against the BBC's and other British news organizations' distorted and lopsided reports on Tibetan secessionist violence and London leg of Olympics torch relay. [Lei Xiaoxun/chinadaily.com.cn]
The tranquility in Old Palace Yard didn't dampen the ferventness of the peaceful demonstration, the protesters well-prepared themselves with obtrusive banners, flags, English handouts and photo boards showing hard evidence of what actually had happened in China and its Tibetan Autonomous Region.
"We come here with a sincere aspiration to raise people's awareness of the media distortion, we try to provide British people with some essential information that was lacking on BBC and other western media; people will make their own judgment with this missing part of the truth", said Miss Qin, an economics student from Cambridge University. Accordingly, she said, the demonstrators intended to convey this message peacefully and cool-mindedly to British people and also to Chinese people; they hope that the audience could read through the message from this less spoken but more powerful way of demonstration. "We sincerely invite British people to come to China, meet the friendly, peace-loving Chinese people."
On the sideline of the demonstration area designated by the police, Nebojsia, a careers adviser from London was busy with handing out home-made graphs of his own protest against BBC's one-sided reports. "I have seen the reports and I have watched the broadcasts, there is nothing for BBC to deny, it's biased." He was also impressed by the silence demonstration, "I didn't expect a protest in a silent way can be so striking and forceful, it's brilliant, and it's a stark contrast with the biased media's loudly and lousy news pieces."
A trigger fact for this massive protest was BBC's and other news organizations' reports on April 6 London Olympics torch relay. "There were, actually, thousands Chinese people lining along the relay route on April 6, I was one of them", said Qin, "we were really excited to welcome the sacred flame in London streets together with many local people, but we were so disappointed when we see the news coverage of BBC. It only showed images of the pro-Tibetan-independence activists in the streets, who tried their very best to ruin the torch relay into chaos." Qin's opinion was shared by many her peer demonstrators.
There were many Chinese people coming to join or support the demonstration after they learned the information online or on some Chinese newspapers circulated in UK. Miss Huang, a student from University of Reading was among them, she made her long way to London this morning, she told reporter how excited she was to join the demonstration. "The first time I saw the posts online about this rally, I immediately made up my mind for this trip. I called my mom back in China, telling her my decision; she was so supportive that she then mailed me Chinese national flags from my hometown."
The demonstration went on in surprisingly uniformed silence, no one talked aloud, no one strolled around; the few London police officers were busy with reminding passer-bys and photo journalists of coming cars. Many people standing beside the demonstration area were heartedly moved by the scene, Mr. Wang from Shenyang, northeast China, told reporter that he was going to witness the protest to the end in the afternoon, "it's so cold today, and these young people are standing there for hours, they are great!"
London's demonstration was not alone today; it came in tandem with massive rallies in Paris and Berlin, which were attended by thousands of overseas Chinese. The European trio was echoed by another large scale peaceful demonstration in Los Angeles, the US rally also battered media distortion and bias, with CNN as the center of the target.