BEIJING - President Hu Jintao and Premier Wen Jiabao on Monday issued directives that all-out efforts be made in rescuing and treating the injured from the early morning train collision in east China.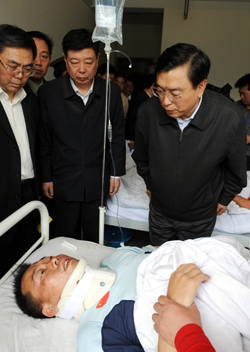 Vice Premier Zhang Dejiang (R) visits an injured passenger at a local hospital in Zibo, East China's Shandong Province, April 28, 2008. [Xinhua] 
The top leaders also requested relevant offices to properly handle the aftermath, discover the cause of the accident and resume rail operations at the earliest time possible.
A high-speed passenger train jumped the track in the eastern province of Shandong early on Monday, striking another train and leaving 70 known dead and 416 injured as of late Monday, according to railway authorities.
The casualties were from both trains, one of which was en route from Beijing to Qingdao, a summer resort in Shandong and venue of the Olympic sailing competition. The other was traveling from Yantai, Shandong to Xuzhou, Jiangsu Province.
The high-speed train from Beijing, coded T195, derailed in the city of Zibo at about 4:48 a.m. and smashed into train 5034. The second train also left the tracks. At least 14 cars from both trains derailed.
No foreign citizens were killed in the accident, which occurred just before the May Day national holiday passenger rush. However, four French nationals were hospitalized with bone fractures. They were identified as 54-year-old Pascal Boisson, his 14-year-old son Pierre Emmanuel Boisson, 22-year-old daughter Joanne Boisson, and his girlfriend Robin Naurence, 42.