Kuomintang party (KMT) honorary chairman Lien Chan yesterday called on Chinese across the Taiwan Straits to seize the opportunity for peaceful development and contribute to better cross-Straits ties.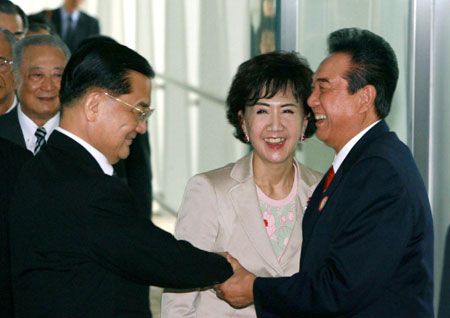 Director of the Taiwan Affairs Office of the CPC Central committee, Chen Yunlin (R), on Monday greets KMT party honorary chairman Lien Chan, who arrived in Beijing together with his wife Lien Fang Yu (center), for a nine-day visit to the mainland. [China Daily]
Lien started his nine-day trip to the mainland Monday. He is scheduled to meet President Hu Jintao, who is also general secretary of the Central Committee of the Communist Party of China, Tuesday.
Speaking at a reception dinner given by Jia Qinglin, chairman of the National Committee of the Chinese People's Political Consultative Conference, Lien said that the year 2008 marks a remarkable moment for all Chinese as the country hosts the summer Olympics.
"With people across the world uniting in a shared dream, why can't the Chinese people across the Straits do the same?" Lien asked.
The KMT's Ma Ying-jeou, who won Taiwan's leadership election in a landslide victory late last month and is scheduled to take office on May 20, has said that relations will be pushed forward step by step to bring peace and prosperity and create a win-win situation.
"The current trend makes it clear that people across the Straits will stay on the bright path of peaceful and harmonious development," Lien said.
Speaking at the same dinner, Jia said that Lien has made "remarkable contributions to the development of the cross-Straits relationship", especially by making a historic ice-breaking tour to the mainland three years ago.
"We have the shared belief of holding high the common happiness of the Chinese people, stick to the '1992 Consensus', and firmly seize the chance of peaceful development in order to seek bliss for people across the Straits," Jia said.