Cancer and stroke are the top two causes of death for Chinese, a Ministry of Health (MOH) study revealed Tuesday.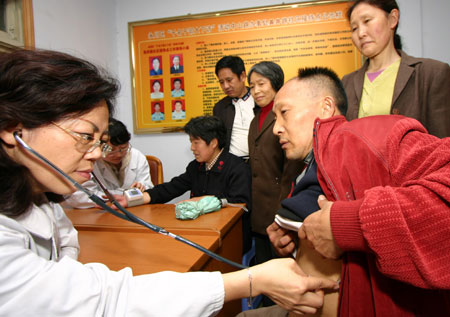 A doctor examines a resident in Chongqing municipality earlier this month as part of a campaign to raise awareness of cancer prevention by provding free medical checkups. [China Daily]
The report of the third national study (2006-08) on causes of death also ranked respiratory diseases third on the list and heart diseases, fourth.
The study, which is based on two years of research and covers about 210 million residents of 160 cities and counties, also listed injuries and poisoning as the fifth highest cause of deaths in the country.
Of the two previous MOH reports, the first was launched in the middle of the 1970s and the second, the early 1990s.
"The number of Chinese who died from the above five reasons account for 85 percent of the total deaths," MOH spokesman Deng Haihua told a press conference in Beijing yesterday.
The death rate of the country's rural and urban residents, particularly of those who died from chronic diseases, was also higher than world average levels.
The incidence of stroke in China, for example, was up to five times higher than the record in Europe and the United States, and 3.5 times higher than in Japan.
While China's cancer rate was close to that of the US, Britain and France, it was much higher than other Asian countries like Japan, India and Thailand.
The differences were reflective of the yawning gap between the country's rural and urban areas in terms of health awareness and living standards, Deng said.
Disparities in economic development between rural and urban regions, which lead to an imbalance in medical care and health awareness, can influence the death rate in different areas, he said.
The number of deaths in the countryside was 19 percent higher than in urban areas. Within urban areas, the death rate in less developed western cities was 25 percent higher than in the more developed east.
The five top causes of deaths also ranked differently in urban and rural areas.
Cancer was the No 1 killer in cities, followed by stroke.
In rural areas, stroke cases outnumbered cancer ones, the report showed.
Heart diseases were more common than respiratory diseases in urban areas, while the opposite was true for the countryside.
"The issues of urbanization and an aging society both influence the lifestyle and health habits of citizens," said Rao Keqin, the director of the center for health statistics and information under the MOH.
"With urbanization and economic development, many urbanites have shown unprecedented zeal in pursuing healthy lifestyles," Rao said.