Mass intestinal virus infection sickens 1,884, kills 20
(Xinhua)
Updated: 2008-04-30 15:17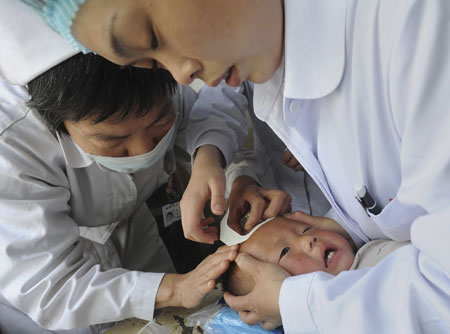 A child who is infected with a kind of intestinal virus, identified as enterovirus 71, or EV71, receives medical treatment at a hospital in Fuyang, Anhui province April 29, 2008. [Agencies]
BEIJING -- An outbreak of a lethal intestinal virus that started in March in east China's Anhui Province had befallen 1,884 children and killed 20 by Tuesday noon, an official said here on Wednesday.
Related readings:



 Provincial officials to track lethal virus


 Daily reporting on virus installed in East China


 ntestinal virus kills 19 children


 Mass intestinal virus infection kills 19 children
Yang Weizhong, the Chinese Center for Disease Control and Prevention deputy chief, said, "No new death cases had occurred over the past five days".

The outbreak happened in Fuyang City.

By Tuesday noon, 540 children remained in hospital for further medical observation, of whom, 27 were said to be in critical condition, according to the provincial health department.

The other 707 were less serious outpatients, while 617 had recovered, the department said.

Hospitals in Fuyang, in northwest Anhui, started to take in children with fever, along with blisters, ulcers in the mouth, or rashes on the hands and feet, in early March. Some were diagnosed with brain, heart and lung damage.

All of the victims were aged below six, of whom, the majority being under the age of two.

Enterovirus 71, or EV71, can cause a hand, foot and mouth disease that usually starts with a slight fever followed by blisters and ulcers in the mouth and on the hands and feet.

It may cause high fever, meningitis, encephalitis, pulmonary edema and paralysis in a small number of children. Paralysis is more common in children under two years and meningitis is more common in children of 2-5 years, Yang said.

Infections could lead to high mortalities in serious cases and neither a vaccine nor therapeutic treatment was available.
Most Commented/Read Stories in 48 Hours