JINAN -- A high-speed passenger train jumped the track in the eastern province of Shandong early on Monday, striking another train and leaving 70 dead and 416 injured, railway authorities confirmed.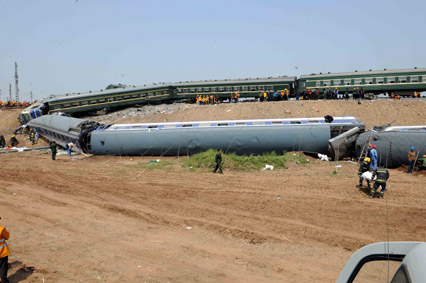 Emergency workers help evacuate passengers from derailed train carriages after two trains collided on a main railway route in Zibo, East China's Shandong Province, April 28, 2008. [Xinhua]
Preliminary investigations suggested the accident was caused by human error. Authorities have ruled out the possibility of terrorism.
The casualties were from both trains, one of which was en route from Beijing to Qingdao, a famous summer resort in Shandong and venue of the Olympic sailing competition. The other was traveling from Yantai, Shandong to Xuzhou, Jiangsu Province.
Related readings:


 Collision caused by human error, officials sacked


 Railway transportation to restore early on Tuesday


 Four French injured in fatal East China train collision


 66 dead, 400 injured in train collision


 Running train kills 18, injures 9 in E. China


 High-speed train kills 18 in Shandong
The high-speed train from Beijing, coded T195, derailed in the city of Zibo at about 4:40 a.m. and smashed into train 5034. The second train also left the tracks. At least 12 cars from both trains derailed.
No foreign citizens were killed in the accident, which occurred just before the May Day national holiday passenger rush. However, four French nationals were hospitalized with bone fractures. They were identified as 54-year-old Pascal Boisson, his 14-year-old son Pierre Emmanuel Boisson, 22-year-old daughter Joanne Boisson, and his girlfriend Robin Naurence, 42.
Joanne Boisson, who sustained minor back injuries, politely declined Xinhua's request for an interview. "I'm not feeling well. I'm on my way to see my younger brother at a separate hospital," she said over the phone.
Vice Premier Zhang Dejiang, who was overseeing rescue work at the site, visited Zibo Traditional Chinese Medicine Hospital where Joanne and her father were being treated on Monday afternoon.
The hospital had received 21 injured passengers so far and more were expected, said Zhang Jun, head of the orthopedics department.
The youngest patient was a 3-and-a-half-year-old boy, Liu Jinhang, from Qingdao.