The chairman of Taiwan's incoming ruling party Kuomintang (KMT) will visit Beijing and meet Hu Jintao, general secretary of the Chinese Communist Party Central Committee, reported the Taipei-based China Times on Sunday.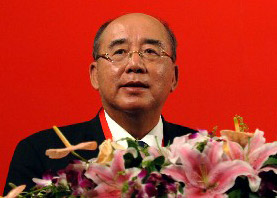 Wu Poh-hsiung, then vice-chairman of Taiwan's Kuomintang (KMT) speaks at a cross-Strait economic and trade forum in Beijing, in this picture taken on April 15, 2006. Wu plans to visit Beijing in June as the Chairman of KMT, Taiwan's incoming ruling party, the Taipei-based China Times said. [file photo]
The newspaper said that Chairman Wu Poh-hsiung plans to meet Hu during a historic trip to the mainland in June.
Ma Ying-jeou, of KMT, won the leadership election in a landslide victory late March. Ma is scheduled to take office on May 20.
Taiwan press have reported that Ma is keen to reach an earlier agreement with Beijing so that weekend chartered flights across the Taiwan Strait could be in July, and commercial direct flights between Taiwan and mainland cities could be materialized in 2009.
Ma also said he will pave the way for more mainland travelers to visit Taiwan, so that people across the Strait could understand more, that could also boost local economy.
Meanwhile, Lien Chan, Honorary Chairman of the KMT, is reported to visit Beijing on Monday. But his itinerary is not clear. There are reports that Lien would meet Hu Jintao, three years after his historic trip to the mainland when the KMT was in opposition in Taiwan.
Analysts said the increasing traffic of visits to Beijing by major KMT figures bodes well for relations across the Taiwan Strait. Beijing and Taibei are expected to reach a peace deal soon, formally ending their enmity ever since the 1946-49 civil war came to a close in which the KMT failed and settled in Taiwan.