ACCRA, Ghana -- The UN chief warned Sunday that the world must urgently increase food production to ease skyrocketing prices and pledged to set up a task force on a crisis threatening to destabilize developing nations.
The cost of food has increased by around 40 percent since mid-2007 worldwide, and the strain has caused riots and protests in countries like Cameroon, Burkina Faso, Haiti and Egypt.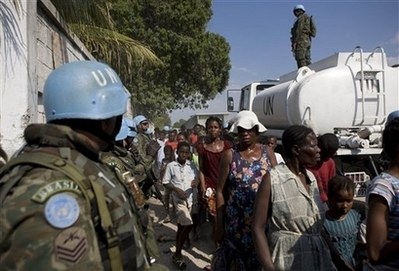 People wait for food at a UN distribution center in Port-au-Prince, April 18, 2008. [Agencies]
"We must make no mistake, the problem is big. If we offer the right aid, the solutions will come," Ban said at the opening of a a five-day UN conference on trade and development in Ghana's capital, Accra.
"One thing is certain, the world has consumed more than it has produced" over the last three years, he said.
Ban blamed a host of causes for the soaring cost of food, including rising oil prices, the fall of the US dollar and natural disasters.
He said he would put together a special task force to help deal with the problem and called on the international community to help. He said the UN World Food Program plans to raise $750 million per year to help feed 73 million people in 80 countries.
"We need a real world and not the world of economic theories," Ban said. "I will work on this right now with a sense of urgency."
Ban said the Millennium Development Goals -- adopted at a UN summit in 2000 to cut extreme poverty in half by 2015 -- were not being met.
"We risk going back to square one, and we need to redouble efforts or betray the promises that we made to our people," Ban said.
In Haiti, food riots this month cost Prime Minister Jacques Edouard Alexis his job and setback international efforts to stabilize the country. Hundreds of Haitians have stood in long times to receive UN and regional food aid rushed to the country.