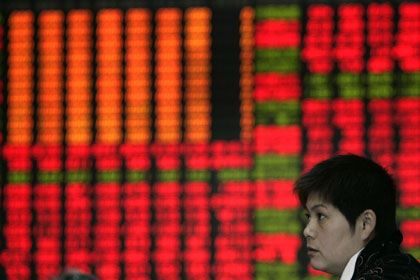 A woman reads information on an electronic screen at a brokerage house in Shanghai April 21, 2008.  [Agencies]
China's stocks ended mixed on Monday as an initial euphoria turned to skepticism over new trading measures announced overnight to help stabilize the market.
The selling of a large amount of shares should be conducted on the bloc trading system, according to rules announced Sunday night by the China Securities Regulatory Commission. A ban was also imposed on large-scale sales 30 days prior to the release of annual or biannual reports.
This move was seen as an attempt to boost dwindling investor confidence after the country's market has nearly lost 50 percent since peaking in mid-October. The flooding of previously untradable shares was blamed as a key culprit for the meltdown.
Investors greeted the news with heavy buying, pushing both the Shanghai Composite Index (SCI) and the smaller Shenzhen Composite Index to open higher nearly seven percent.
However, as trading went on, investors began to question the real impact of the new policy in face of rising uncertainties surrounding the economy, inflation and corporate earnings. Stocks gradually retreated due to waves of selling pressure.
At the end of the session, the Shanghai Composite Index closed at 3,116.97 points, an increase of 0.72 percent over the previous close. The Shenzhen Composite Index lost 0.96 percent to 921.72.
The number of gainers is slightly higher than the losers at the close, against a broad rally at the opening.
PetroChina which has the biggest weighting in the SCI, started the session with 4.5 percent rise at 16.72 yuan per share. It climbed to 17 yuan before retreating to 16.06 yuan, a mere gain of 0.25 percent.
The country's biggest lender, the Industrial and Commercial Bank of China staged a strong performance, closing 4.17 percent higher at 5.99 yuan, but still short of the intra-day high of 6.20 yuan.