WASHINGTON -- President Bush defiantly defended the Iraq war Wednesday as US troops began a sixth year of combat in the long and costly conflict that has dominated his presidency. Bush conceded the war has been harder and more expensive than anticipated but insisted it has all been necessary to keep Americans safe.
Protesters marked the anniversary of the US invasion with demonstrations near the White House and in other cities, though they seemed to lack the fervor of those that preceded the war.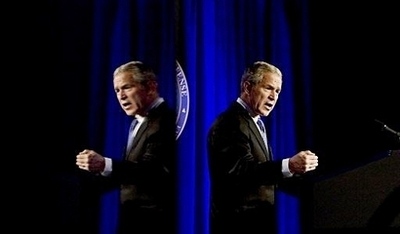 US President George W. Bush speaks on the global war on terrorism at the Pentagon in Washington, DC. Bush on Wednesday defended the launch of the war against Iraq five years ago, vowing no retreat as he promised US forces would triumph over Iraqi insurgents. [Agencies]
Bush, in a speech at the Pentagon, offered some of his boldest assessments of progress and said the war's legacy is absolute: "The world is better, and the United States of America is safer."
A war-weary country isn't nearly so convinced.
The majority of people think the invasion was a mistake, polls show. However, Americans are more split about how the war is going and when US troops should be pulled home, as reduced violence in Iraq has begun to influence the public view.
Related readings:


 Bush's approval rating lowest on Iraq war anniversary


 At least 160 arrested in US antiwar protests


 Five years on, Bush again talks of Iraq victory


 Bush says Iraq war was worth it


 US protesters mark Iraq war anniversary


 Clinton: "We cannot win" Iraq war
Almost 4,000 US military members have died, and more than 29,000 have been wounded. The cost is $500 billion and counting.
"No one would argue that this war has not come at a high cost in lives and treasure," Bush said. "But those costs are necessary when we consider the cost of a strategic victory for our enemies in Iraq."
The US has about 158,000 troops in Iraq, and that number is expected to drop to 140,000 by summer. But Bush signaled anew that he will not pull more troops home as long as his commanders worry that doing so will imperil recently improved conditions in Iraq.
"Having come so far, and achieved so much, we're not going to let this happen," Bush said.
Demonstrators converged in the nation's capital, other big cities like Miami and San Francisco, and in smaller towns in Vermont and Ohio to urge an end to the war. Police arrested more than 30 people who blocked the Internal Revenue Service building in Washington, and protesters blocked downtown intersections several times.