WASHINGTON -- More than 160 people were arrested across the United States on Wednesday as protesters marking the fifth anniversary of the US invasion of Iraq obstructed downtown traffic and tried to block access to government offices.
There were 32 arrests in Washington after demonstrators attempted to block entrances to the Internal Revenue Service (IRS), while 30 others were arrested outside a congressional office building, police said.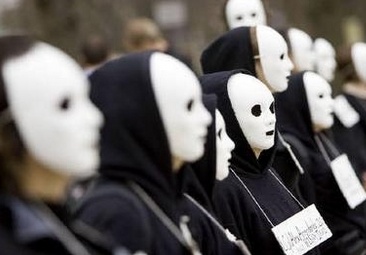 Anti-war protesters wear white masks and placards with the names of Americans and Iraqis killed during the war in Iraq during a demonstration near the Vietnam Memorial in Washington, DC March 19, 2008. [Agencies] More pictures
Protesters had hoped to shut down the IRS, the US tax collection agency, to highlight the cost of the war. Police cleared the building's entrances within an hour.
In San Francisco, long a center of anti-Iraq war sentiment, police arrested more than 100 people who protested through the day along Market Street in the central business district, a spokesman said.
Related readings:


 US protesters mark Iraq war anniversary


 Time for Iraq rethink


 Five years on, Bush again talks of Iraq victory


 Bush says Iraq war was worth it
Sgt. Steve Maninna said officers had arrested 101 people on charges including trespassing, resisting arrest and obstructing traffic.
Four women were also detained for hanging a large banner off the city's famous Golden Gate Bridge and then released, said bridge spokeswoman Mary Currie.
On Washington's National Mall, about 100 protesters carried signs that read: "The Endlessness Justifies the Meaninglessness" and waved upside-down US flags, a traditional sign of distress.
"Bush and Cheney, leaders failed, Bush and Cheney belong in jail," they chanted, referring to US President George W. Bush and Vice President Dick Cheney.
One hour after the IRS standoff, several dozen protesters waved signs that read: "Stop Paying to Kill" and "How Much Longer?" as a ragtag brass band played. IRS employees were easily able to enter the building.
"We wanted to put our bodies between the money and what that money goes to fund -- the war, the occupation, the bombs," said Frida Berrigan, an organizer with the War Resisters League.
The war has cost the United States $500 billion since the invasion to topple Saddam Hussein began in March 2003 and is a major issue in November's US presidential election. Tens of thousands of Iraqis have been killed and millions more displaced, with almost 4,000 US soldiers killed.
BLOCKING TRAFFIC
Later, scores of noisy protesters blocked a busy intersection in Washington's business district. They picketed in front of the offices of The Washington Post and threw red paint on the building that houses the Examiner newspaper and Bechtel National Inc, which has handled major reconstruction projects in Iraq.
In New York, about 30 members of the "Granny Peace Brigade" gathered in Times Square, knitting in hand, to demand troops be brought home now.
"We're out here to show people that this war is madness. We never should have gotten into this war in the first place," said Shirley Weiner, 80.
Police in Boston arrested five people who blocked access to a military recruitment center by lying on a sidewalk dressed as slain Iraqi civilians, an Iraqi mourner, a slain US soldier and an American citizen in mourning.
"We went to this military recruiting station today because we want to see the war end immediately," said activist Joe Previtera in a statement. "Silently waiting for Congress to act on this war in 2009 will condemn thousands more people to injury and senseless death. Enough is enough."