WASHINGTON -- President Bush says he has no doubts about launching the unpopular war in Iraq despite the "high cost in lives and treasure," arguing that retreat now would embolden Iran and provide al-Qaida with money for weapons of mass destruction to attack the United States.
Bush is to mark the fifth anniveresary of the US-led invasion of Iraq on Wednesday with a speech at the Pentagon. Excerpts of his address were released Tuesday night by the White House.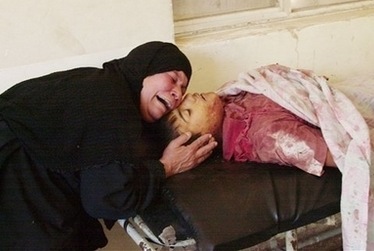 The mother of Samah Hussein cries over his body lying in a Baghdad, Iraq, morgue after he was killed when a suicide attacker detonated a car bomb outside the US military camp Cuervo in Baghdad in this June 13, 2004 file photo. [Agencies]
At least 3,990 members of the US military have died since the beginning of the war in 2003. It has cost taxpayers about $500 billion and estimates of the final tab run far higher. Nobel Prize-winning economist Joseph E. Stiglizt and Harvard University public finance expert Linda Bilmes have estimated the eventual cost at $3 trillion when all the expenses, including long-term care for veterans, are calculated.
Democrats offered a different view from Bush's.
Related readings:


 Clinton: Iraq war may cost $1 trillion


 Bush issued hundreds of false statements before Iraq War: Study


 More US men back from Iraq war have mental disorder


 Studies: Iraq costs US $12b per month


 2007 deadliest for US troops in Iraq
"On this grim milestone, it is worth remembering how we got into this situation, and thinking about how best we can get out," said Rep. John Dingell, D-Mich. "The tasks that remain in Iraq - to bring an end to sectarian conflict, to devise a way to share political power, and to create a functioning government that is capable of providing for the needs of the Iraqi people are tasks that only the Iraqis can complete."
In his remarks, Bush repeated his oft-stated determination to prosecute the war into the unforeseen future.
"The successes we are seeing in Iraq are undeniable, yet some in Washington still call for retreat," the president said. "War critics can no longer credibly argue that we are losing in Iraq, so now they argue the war costs too much. In recent months, we have heard exaggerated estimates of the costs of this war.
"No one would argue that this war has not come at a high cost in lives and treasure, but those costs are necessary when we consider the cost of a strategic victory for our enemies in Iraq," Bush said.
Bush has successfully defied efforts by the Democratic-led Congress to force troop withdrawals or set deadlines for pullouts. It is widely believed he will endorse a recommendation from Gen. David Petreaus, the top US commander in Iraq, for no additional troop reductions, beyond those already planned, until at least September.