LONDON -- There will be many casualties from the unfolding financial market crisis, which will lead to a large-scale overhaul of international banking regulations, codes and risk management, former Federal Reserve Chairman Alan Greenspan said.
Writing in the Financial Times, the former Fed chief said much of the financial system's risk-valuation models failed, not because they were too complex but because they were "too simple to capture the full array of variables governing that drive global economic reality."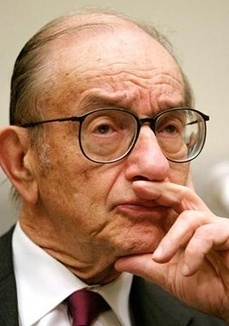 Former Federal Reserve Board Chairman Alan Greenspan pauses during testimony on Capitol Hill in a 2005 photo. [Agencies]
"The crisis will leave many casualties. Particularly hard hit will be much of today's financial risk-valuation system," he wrote.
While insisting that current risk management models and econometric forecasting methods remain "soundly rooted in the real world," he said risk management can never be perfect.
"It will eventually fail and a disturbing reality will be laid bare, prompting an unexpected and sharp discontinuous response," Greenspan said.
He added, however, that he hoped one of the casualties from the worst US financial crisis since World War Two would not be the spirit of broad self-regulation within financial markets.
Although he said the Basel II international banking regulatory framework would almost definitely be revamped and financial institutions' financial models would need to be re-drafted, Greenspan warned against over-regulation.
"It is important, indeed crucial, that any reforms in, and adjustments to, the structure of markets and regulation not inhibit our most reliable and effective safeguards against cumulative economic failure: market flexibility and open competition," he said.