TOKYO - The Japanese central bank will be run by a temporary leader in the midst of a credit crisis, after parliament rejected on Wednesday the government's latest nominee to replace the current governor when he retires in a few hours.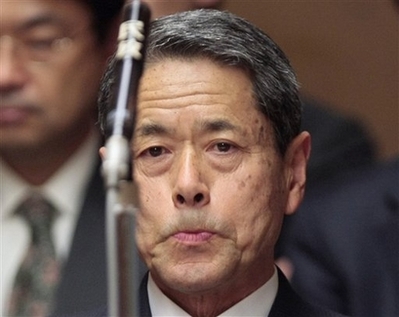 Bank of Japan Governor nominee Koji Tanami listens to questions during a hearing at the upper house of Parliament in Tokyo Tuesday, March 18, 2008. [Agencies]
Opposition parties in control of parliament's upper house vetoed a second former top finance ministry bureaucrat put forward for the job, leaving Governor Toshihiko Fukui with a final task of appointing a temporary governor before he leaves the job at midnight (1500 GMT).
The vacancy - the first at the Bank of Japan since 1923 - leaves the world's No.2 economy without a permanent central bank head amid global market turmoil and as major central banks take coordinated action to curb the credit crisis.
While politicians from the ruling Liberal Democratic Party and the opposition Democrats have repeatedly blamed each other for the stalemate, one analyst questioned the future of Prime Minister Yasuo Fukuda.
"Fukuda has now twice in a row put forth someone with experience at the Ministry of Finance, which the Democrats don't like. This has raised questions about Fukuda's sense," said Takehiro Sato, an economist at Morgan Stanley, adding that Fukuda may not last until mid-year.
"The first time, the criticism focused on the Democrats, but this time the criticism toward Fukuda and the ruling party is growing. The collective power of the Fukuda administration within the LDP and the ruling party is weakening dramatically."