WASHINGTON - Democrat Hillary Clinton charged on Monday the Iraq war may cost Americans $1 trillion and add strain to the buckling US economy as she made her case for a prompt troop pullout from a war "we cannot win."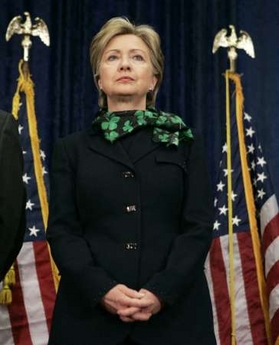 Democratic presidential candidate Senator Hillary Clinton (D-NY) waits to deliver a campaign speech on the war in Iraq at George Washington University in Washington, March 17, 2008. [Agencies] 
With the United States this week marking the fifth anniversary of the US invasion of Iraq, the economy's assorted strains competed for attention as the top issue facing voters when they choose their next president in November.
Clinton, a New York senator and former first lady, said US policy on Iraq is at a crossroads. She said the war has sapped US military and economic strength, damaged US national security, taken the lives of nearly 4,000 Americans and left thousands wounded.
The money to fund the war, she said, could be used to provide health care to 47 million uninsured Americans, solve the mushrooming US housing crisis and make college affordable.
"Our economic security is at stake," she said. "Taking into consideration the long-term costs of replacing equipment and providing medical care for troops and survivors' benefits for their families, the war in Iraq could ultimately cost well over $1 trillion."
Clinton, locked in a closely fought duel with Illinois Sen. Barack Obama for the Democratic presidential nomination, is claiming to have the foreign policy experience that Obama lacks.
She took aim at the likely Republican nominee, Arizona Sen. John McCain, accusing him of joining President George W. Bush in pushing a "stay the course" policy that would keep US troops in Iraq for 100 years.
"They both want to keep us tied to another country's civil war, a war we cannot win," she said. "That in a nutshell is the Bush/McCain Iraq policy. Don't learn from your mistakes, repeat them."
She said if elected she would convene military advisers and ask them to develop a plan to begin bringing US troops home within 60 days of her taking office next January.
"Senator McCain and President Bush claim withdrawal is defeat. Well, let's be clear, withdrawal is not defeat. Defeat is keeping troops in Iraq for 100 years," Clinton said.
McCain, 71, who hopes to win the presidency based on the strength of his national security experience, was in Baghdad at the start of a week-long Middle East and Europe swing with two Senate colleagues.
McCain is a big backer of Bush's troop build-up in Iraq, credited for slowing the death toll there. He said if Clinton were allowed to start bringing home troops in 60 days of taking office, "I just think what that means is al Qaeda wins."
"All I can say is that this will be a big issue in the election as we approach November because at least a growing number of Americans, though still frustrated and understandably so, believe that this strategy has succeeded," he told CNN.
Clinton also accused Obama, who would be the first US black president, of not starting to end the war until he began his race for the White House.
"Senator Obama has said often that words matter. I strongly agree. But giving speeches alone won't end the war and making campaign promises you might not keep certainly won't end it," Clinton said.