WELLINGTON -- The father of an abandoned toddler, who is wanted in New Zealand for the killing of his wife, has been arrested in the United States, police in the US state of Georgia said on Friday.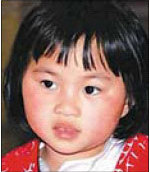 Xue Qianxun
Xue Naiyin was arrested in the town of Chamblee, near Atlanta, Georgia, after members of the local Chinese community recognized him from a picture in a Chinese newspaper and tied him up until police arrived, the town's police chief Marc Johnson said.
Xue made headlines in September after security camera footage showed him abandoning his three-year-old daughter, Xue Qianxun, at a railway station in Melbourne, Australia, before boarding a flight to Los Angeles.
She was dubbed "Pumpkin", after the Pumpkin Patch clothing brand she was wearing.
The body of Xue's wife, Liu Anan, 27, was found in his car outside the couple's home in Auckland four days after Xue left.
The toddler has since gone to live in China with her grandparents.
Johnson said police received a call from a man who said he recognized Xue as someone wanted for murder in New Zealand.
When officers arrived, five Chinese men and a Chinese woman had restrained Xue by pulling his pants down and tying them in a knot around his ankles. They had also tied his hands together with his belt, Johnson said.
"Neither the suspect nor the six people spoke English. They actually handed the officer a copy of the article (in the Chinese newspaper) and pointed to the picture and pointed to him (Xue)," Johnson said.
Xue is being held in the local jail until US officials take him into custody, Johnson said.
New Zealand is expected to seek his extradition.