MOSCOW -- After nearly 17 years of independence, the Russian people are facing another historical choice when they cast votes to choose their third president on Sunday, for the popular President Vladimir Putin is constitutionally barred from a third consecutive term.
However, little suspense has been left for the future president though four candidates are running for it.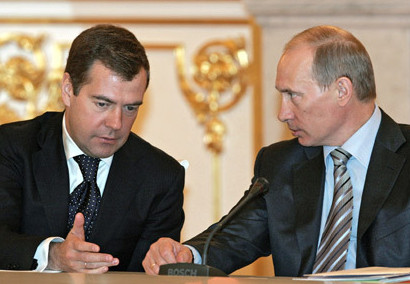 President of Russia Vladimir Putin (R) and First Deputy Prime Minister Dmitry Medvedev attend a meeting of the Council for National Projects in the Kremlin of Moscow, capital of Russia, Feb. 28, 2008. [Xinhua]
With President Vladimir Putin's support, the pursuit of a stably developing society under Putin's current policies, an envisaged future power structure and the lack of competitive opponent, the ruling United Russia Party's candidate Dmitry Medvedev is almost guaranteed to win the election.
Under Putin's eight-year leadership, Russia has revitalized as a promising world power with stable political situations, a prosperous economy and confident citizens other than a country facing social, economic and political collapse at the end of the 1990s.
Putin is widely popular among the people, who now look to the future with greater optimism and confidence than at any time over the past two decades. Under Putin, real wages have tripled and unemployment has fallen sharply.
As Putin's anointed heir, 42-year-old Medvedev was soon in the spotlight after the incumbent president publicly announced that he supported Medvedev's candidacy at the end of last year. Various opinion polls showed that the ruling party's candidate will win between 60 and 80 percent of the vote.
Medvedev, first deputy prime minister, leads Kremlin initiatives to fix housing, health care, education and agriculture. As the supervisor of national projects, he is generally seen as a " socially oriented" politician.
After long years of collaboration, Putin regarded Medvedev as an honest, efficient and mature statesman with modern and independent thinking -- the one that fits Putin's criteria. Putin said he didn't need to be "shamed or worried" about passing him the highest power of the state. "He will be a good president," Putin said.
Medvedev has promised to continue Putin's policies if he is elected president and he would appoint Putin prime minister, which as been accepted by the president.
The tandem of President Medvedev and Prime Minister Putin "is the real foundation of political stability for many years ahead," Leonid Polyakov, a scholar of the Higher School of Economics, said in an interview in December.
Another important factor which will guarantee Medvedev's victory is the lack of competitive opponent.
Huge gap exists between Medvedev and the other three candidates in the percentage of support, which shows most Russian people approve of what Putin has done in office.
According to the latest opinion poll published by Russian media, Communist leader Gennady Zyuganov will win 15.1 percent of the vote, Liberal Democratic Party leader Vladimir Zhirinovsky, 10.9 percent and Andrei Bogdanov, the leader of the Democratic Party, about 1 percent. Who will be the winner is easy to see from the numbers.
Putin said earlier this month that his goal is turning Russia into the world's No. 5 economy by 2020. With one day left for Russian voters to ratify Dmitry Medvedev as the country's next president, most people just wait for a future president to maintain stability, address crucial social needs, and enhance Russia's role as a major world power.