If you are a foreign reporter covering annual sessions of the National People's Congress (NPC) and the Chinese People's Political Consultative Conference (CPPCC) in Beijing next week and worried about the language, traffic and, above all else, access, put your worries at rest.
Instead, said Tian Qi, deputy director of the special press center, the biggest obstacle - if there is any - for you as a reporter to land a scoop are your fellow reporters. There will be about 900 foreign journalists.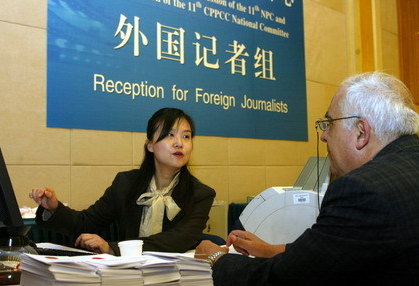 A worker at the new press center handles an inquiry from Julio Hernandez Blanco, a reporter with Cuba's Latin American News Agency Friday February 29, 2008. [China Daily]
Tian was speaking as press badges were being handed out to foreign reporters on Friday. Already, 843 foreign journalists have been registered, 20 percent more than last year.
The number is likely to rise because press registration will continue until Wednesday.
Foreign reporters ready to join the "war", take this as a consolation: This year, unprecedented access will be granted to Chinese and foreign reporters both.
But despite their reputed aggressiveness, most foreign reporters may find it hard to compete with their Chinese counterparts in reaching interviewees.
Now all they need to do is fill up the interview registration form on the NPC and CPPCC official website. And then with just a click of the mouse, they can leave the "exasperating" job of actually setting up the interview to a group of dedicated staff at the center who speak excellent English.
Setting up interviews online is not the only help foreign reporters will get from the organizers. Tian said foreign television and broadcasting press organizations will get free broadcasting images and signals, too.
And then there's the Xinhua News Agency, which will share its pictorial story about the event with foreign reporters - all pictures taken in and outside the meeting rooms can be used free of charge.
For NPC-CPPCC veterans, the memory of scurrying from one venue to another is probably still vivid in mind. The task of merely finding the right place in Beijing could be daunting for a foreign reporter. But don't worry. This year, buses will commute regularly between the media center and the various destinations, including the Great Hall of the People, where the most important NPC and CPPCC meetings will be held.
This maximum media access could be a test for the NPC deputies and CPPCC members. Statistics show about two-thirds NPC deputies and more than half the CPPCC members are first-timers. Most of these newcomers have no experience of being "bombarded" by a multinational reporting army.
The majority of the foreign reporters covering the two are based in Beijing.
Unlike those who take a crash course in Chinese economies and politics before flying in for a few days to cover events like this, they have been "stationed" in China for up to a decade.
All that experience makes them keen observers. They are more aware of the ground realities and are thus more wary of "stereotyping" in reporting.
Olga Tanasiychuk is one such "embed" - she first covered an NPC session was 1994. "I have always had empathy toward the development of China - all the efforts made by its government and its people," said the reporter from National News Agency of Ukraine's Beijing Bureau.
"But empathy aside, I would have to admit that there indeed are lot of changes. And as a reporter, I can feel it personally. For one thing, access to the meetings has been greater and greater."