Mrs Zhang is very much looking forward to the opening of Beijing's new Line 10 metro route.
On Friday, the 72-year-old was buffeted and bashed as she tried to get on a bus at Guomao, where she had been visiting her son at his office.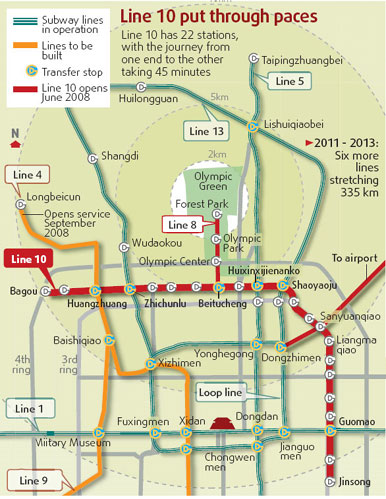 She wanted to get to Shuangjing, she said, but the crowds were so big and boisterous, she kept getting pushed to the back of the queue.
However, she knows that when the new Line 10 opens, her journey will be a lot less stressful.
"I really wish I could take the subway. It's faster and less painful," she said, doing her best to avoid the crowds and passing buses.
Scheduled to open in June, Line 10 will provide a high-speed link for commuters - and their elderly relatives - between Bagou in the west and Jinsong in the south.
On Friday afternoon, Zhou Zhengyu, deputy director of the Beijing municipal committee of communications, joined a group of journalists to try out the new route.

The 15.5-billion-yuan ($2.18 billion), 25-km line, along with two other routes linking the airport and the Olympic Green, will open in June, once testing has been completed - just in time for the millions of Olympic visitors, he said.
"But we won't slow down our construction plans once the Games have finished," Zhou told China Daily inside one of the line's new carriages.
"In fact, we will accelerate our development plans to provide an even better service for the people of Beijing."
Since the opening of Line 5 in October, the number of passengers using the subway has risen by more than a third, he said.
By 2015, Beijing's metro will stretch more than 561 km and feature 420 stations, Zhou said.
The existing network spans 155 km and has 93 stations, with the cost to develop each additional kilometer averaging out at about 500 million yuan, Liu Hongtao, a senior official with the Beijing railway transportation construction corporation, said.
He told China Daily the massive infrastructure project was already progressing well.
"Three lines are close to completion, one is under construction, and ground has been broken at six others," he said.
"The total cost of all the extra lines will be something like 200 billion yuan by 2015," he said.
"The government's usual annual budget for public transport is about 1 billion yuan," Zhou, who will be in charge of public transport in Beijing for the next five years, said.
Wang Hailong, who has worked as a taxi driver in the capital for the past five years is not worried about the metro taking away his business.
"The new subway does us little harm," he said. "And it will certainly ease the pain of millions of people who now travel by bus."