WASHINGTON - The economy of the United States skidded to a near halt in the final quarter of last year, clobbered by dual slumps in housing and credit that caused people and businesses to spend and invest more sparingly.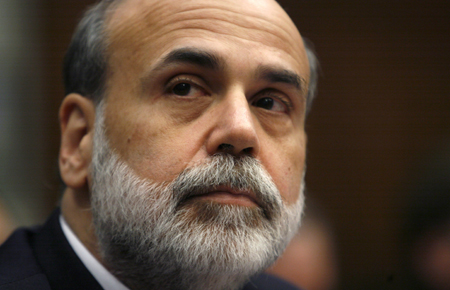 Federal Reserve Chairman Ben Bernanke [File photo] 
The Commerce Department reported Thursday that the gross domestic product increased at a scant 0.6 percent pace in the October-to-December quarter. The reading - unchanged from an initial estimate a month ago - underscored just how much momentum the economy has lost. In the prior quarter, the economy clocked in at a brisk 4.9 percent pace.
Gross domestic product measures the value of all goods and services produced in the United States and is the best barometer of the country's economic health.
"The economy just kept its head above water," said Nigel Gault, economist at Global Insight.
Economists had thought the newly released fourth-quarter GDP would have been bumped up to a 0.8 percent growth rate.
The housing picture looked even more bleak in the new report.
Builders slashed spending on housing projects by a whopping 25.2 percent on an annualized basis in the fourth quarter, the biggest cut in 26 years.
And, even though economic growth slowed, inflation picked up - an ominous mix that could spell further trouble for the economy.
As if the newly confirmed fourth-quarter GDP figure of 0.6 percent wasn't chilling enough, the Labor Department reported Thursday that new applications for unemployment insurance benefits rose by 19,000 to 373,000 last week, more evidence that the general economic sluggishness is spilling over into the job market.
On Wall Street, the latest batch of economic news rattled investors. The Dow Jones industrials were down in morning trading.
Fears have grown that the country is heading for a recession or is already in one.
The National Association for Business Economics expects economic growth in the current January-to-March quarter to slow to a meager 0.4 percent pace. Some analysts believe the economy's performance could be even worse and actually shrink during this period. Under one rough rule, the economy would have to contract for six months in a row for the country to be viewed as in a recession.
With risks lurking that the problems could intensify and further hurt the economy, Federal Reserve Chairman Ben Bernanke made clear he stands ready to lower a key interest rate again. The Fed, which started cutting interest rates to bolster the economy in September, has turned much more aggressively recently. In eight days in January, the Fed slashed rates by 1.25 percentage points - the biggest one-month reduction in a quarter-century. Rates are expected to move lower at the Fed's next meeting on March 18.