China's Olympic dream of basketball glory has been hit by a rude awakening - a tiny crack that you can barely notice even on a CT scan.
Yao Ming, the Houston Rockets' All-Star center, was diagnosed with a stress fracture in his left foot that will end his NBA season, his team said on Tuesday (yesterday Beijing time).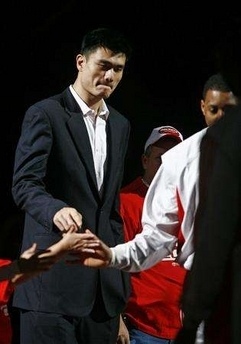 Houston Rockets center Yao Ming, out of the spotlight and sidelined for the rest of the season with a foot injury, watches as teammate Tracy McGrady is introduced against the Washington Wizards at the beginning of their game in Houston February 26, 2008. [Agencies]
He could even miss the Beijing Olympic Games this summer.
Chinese men's hoopsters will have to battle it out for their goal of reaching the top six at the Games after the announcement of Yao's injury, which coincided with the Rockets' sparkling 13-game winning streak.
"We are shocked," CBA vice-director Hu Jiashi told a press conference yesterday. "It is definitely something that you didn't need with just about six months to the Olympics.
"I cannot tell whether Yao will miss the Games or not, as his team has yet to decide whether to let him undergo surgery."
The Rockets said the six-time NBA All-Star is expected to be sidelined for three to four months before full rehabilitation training.
That would leave Yao with only a month or two to regain fitness for the Games.
The center could undergo surgery, which would involve placing screws across the bone between his ankle and foot to hold it together. The recovery time is expected to be four months.
The other option is to put the foot in a cast; and recovery could take three to four months.
Chinese medical experts are optimistic that Yao will not miss the home Games.
"I think there is enough time for Yao to be ready in August," said Qiao Wei, medical education director of Beijing University of Physical Education. "He will spend three months in bed and one month for basic rehabilitation, then he can play on the court.
Related readings:


 Chinese still hopeful Yao Ming will compete at Olympics


 CBA to prepare for 2008 Olympics without Yao


 Don't count Yao out of Games


 My left foot ... Yao's agony


 Yao out for season with left foot injury


 Yao Ming's ads to raise AIDS awareness


 Yao Ming expelled out of court, first time in career
"Yao could not have avoided the injury given his size and a 38-minute average playing time per game. It is not because of a hit or a stretch during the game, it is a long-time thing. I think it is a reflection of his hectic season."
Despite having one of the best seasons of his career with an average of 22 points and 10.8 rebounds, Yao said missing the Olympics would be the biggest failure of his career.
"If I cannot play in the Olympics for my country this time, that would be the biggest loss in my career.
"I'm looking forward to a fast recovery in whatever way will make me come back quicker."
However, some believe that Yao won't be in his best form even if he recovers in time.
"He is not a God, he needs time to get used to the style of the Chinese national team," a fan told Beijing Television.
The national team will start a training camp on March 8, and head coach Jonas Kaslauskas said he has already worked on a new game plan sans Yao at the Olympics.
Yao led the Chinese team to the quarter-finals of the Athens Olympics in 2004. It took eighth place after losing to Spain.