A key Party session ended Wednesday with a pledge to deepen political reform.
The political system needs to keep pace with the requirements of the country's economic and social development, the protection of democratic rights, and social equity and justice, said a communique issued after the Second Plenary Session of the 17th Central Committee of the Communist Party of China (CPC).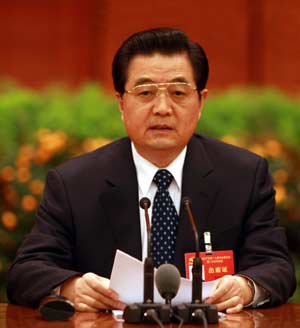 Chinese President and CPC General Secretary Hu Jintao delivers an important speech at the Second Plenary Session of the 17th Central Committee of the CPC in Beijing, Feb. 27,2008. [Xinhua]
It said the CPC must hold higher the banner of democracy, stressing, "it is the Party's constant goal to advance socialist democracy".
President and CPC Central Committee General Secretary Hu Jintao delivered a keynote speech at the three-day session which started on Monday in Beijing. Participants included 204 members of the CPC Central Committee and 167 alternate members.
According to the communique, the session approved two lists of candidates, one for State leaders and the other for leading members of the Chinese People's Political Consultative Conference (CPPCC).
Related readings:


 CPC leadership to discuss personnel, govt reshuffles


 Non-CPC members make up 60% of new top advisory body


 Netizens select CPC congress as top news story in 2007

 Communist leader may pull out of election


 Hu urges reform, innovation in Party building
They will be recommended to the presidiums of the upcoming annual sessions of the 11th National People's Congress (NPC) and the 11th CPPCC National Committee.
The CPC session also approved two documents on deepening the reform of the country's administrative system and institutional restructuring of the State Council, the Cabinet. The latter will be submitted to the NPC for deliberation.
The broad goal is to form an efficient administrative system with Chinese characteristics by 2020, the communique said.
The statement promised to improve regulation of investment, consumption and exports, but gave no details of how the measures will be implemented.
The Party will "resolutely implement the Central Committee's decision to strengthen and improve macroeconomic controls," it said.
The committee hailed the stirring effort in fighting severe winter weather in parts of the country since mid-January, calling it evidence of China's political advantages.
The committee expressed concern over social issues in the education, social welfare and healthcare sectors, and pledged to promote social harmony and ensure social stability.
It called for strenuous efforts to ensure the success of the forthcoming Beijing Olympic Games and Paralympics.