Rising inflation will be one of the hottest topics of discussion at the annual sessions of the National People's Congress (NPC) and the Chinese People's Political Consultative Conference (CPPCC), which begin on March 3 and 5, respectively.
The "two sessions" will discuss other burning issues, too, such as the impact of the US subprime crisis on the Chinese economy, energy conservation and waste reduction, medical and education reforms, and the Beijing Olympic Games, says Zhang Jing'an, information office director under the General Office of the CPPCC National Committee.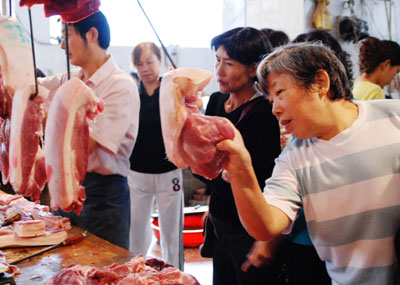 Consumers shop for pork at a market in Yunyang County, Southwest China's Chongqing Municipality in this September 14, 2007 photo. [Asianewsphoto]
"Some CPPCC members think China is entering a period of inflation because the increase in prices has gone beyond structural adjustments," Zhang says.
CPPCC members are elected every five years, and at least two-thirds of them will be new this time, drawing unprecedented attention from home and abroad.
No wonder, more than 2,000 journalists from home and 1,000 from abroad are expected to cover the event. With journalists being able to watch at least one phase of all CPPCC panel discussions, except those of the armed forces, this year's event will be the most open for the media.
Related readings:


 CPC session ends, vows to deepen political reform


Higher rates no way to check inflation


Tight monetary policy to curb inflation: PBOC


Inflation threatens economic miracle


Handouts are not the answer to inflation


 Nation faces increasing inflation risk
The flow of 2,237 CPPCC members from across the country into Beijing has started already. And like previous years, the 12-day event will include two general meetings on the 24 best proposals of members or member groups.
The CPPCC comprises 34 member groups with representatives of the Communist Party of China (CPC), the non-Communist parties, non-Party-affiliated individuals, representatives of people's organizations, ethnic minorities and members from across the social strata.
Unique to China, the multi-party cooperation and political consultation led by the CPC is an important component of China's country's political system. The role of CPPCC members is very important because they contribute their ideas and suggestions through relative government departments.
The 10th CPPCC National Committee submitted 23,081 proposals in the past five years, completed 112 investigations on important issues and filed constructive reports with relevant government departments. Many of its proposals and investigative reports were developed into government regulations and policies, benefiting the people at large.
Chairpersons of all eight non-Communist parties will hold a press conference on multi-party cooperation and political consultation by the CPC on March 6. Two more press conferences, on March 8 and 12, will be on social responsibility of entrepreneurs and the Olympic Games.