WAUKEGAN, Ill. -- An explosion possibly caused by a gas leak ripped through a suburban Chicago shopping plaza Thursday, injuring at least nine people and rattling nearby buildings, fire officials said.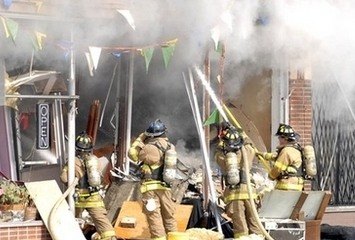 Fire fighters battle a fire and roof collapse from an explosion at a hair salon in Waukegan just on Thursday, Feb. 28, 2008. [Agencies]
Eight people were taken to a hospital, none with life-threatening injuries, and another was treated at the scene, Deputy Fire Chief Dan Young said. A fire that erupted had been extinguished, and crews were nearly certain the rubble had been cleared by mid-afternoon but were seeking one person who had been reported missing, he said.
The blast struck around lunchtime in the business district about 40 miles north of Chicago, shattering windows and collapsing the roof of the plaza, which housed a cell phone shop, a tuxedo store and a hair salon, among other businesses.
Authorities believe the cause was a gas explosion, Young said.
Two of the eight people taken to the hospital were in serious condition, Young said. The injuries included smoke inhalation, bumps and bruises, he said.
Candi Rixie said she was taking orders at Leno's Submarine Shop a block away from the shopping plaza when the blast hit.
"We felt like an earthquake, like somebody had hit the building with a car," she said.
Rixie said she ran out of the restaurant to see what had happened. She and others said they first thought they saw bodies in the street, but quickly realized it was clothes and mannequins that had been on display in a store and blown outside by the blast.
Gary Podyma was taking inventory at the Living Foods Pantry health food store across the street from the shopping building when he heard a loud explosion and his windows blew out.
Then he saw a big, brown cloud and debris coming toward him.
"To see a building coming toward you like that -- words can't describe the feeling you get," he said. "It was frightening, it was ominous."
He said he also smelled a strong odor of gas immediately after the blast.
"It's amazing that anybody survived," he said.
A spokeswoman for People's Gas said a crew was on the scene but hasn't been able to get close enough to say what might have caused the explosion.
David Motley, a spokesman for the city of Waukegan, said the brick building was decades-old.
"The roof blew up and off and fell back down," he said.
George Sanchez, general manager of Chicago-based Mena Travel agency, said his company's Waukegan branch was adjacent to the explosion and employees inside felt the vibrations. But the store wasn't damaged by the blast.
"Our folks are OK. They were asked to vacate the premises for safety reasons," he said.
Waukegan has a population of about 88,000.