A Yuanmingyuan (Old Summer Palace) official has opposed a company's plan to build a full-scale replica of the former imperial garden, saying the original is "unique and irreplaceable".
"The garden reflects a special period of history, and it is meaningless to repeat history in a different place," Zong Tianliang, spokesman for the administrative office, told a news conference on Wednesday.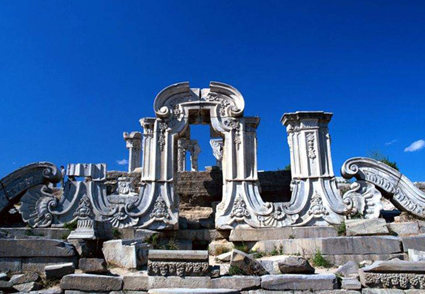 Relics of the Old Summer Palace in Beijing. [file]
The vast garden in northern Beijing was pillaged and burned down 148 years ago by British and French troops - and remains a potent symbol of the West's one-time domination of China.
The private Hengdian Group in Zhejiang province earlier announced a five-year, 20-billion-yuan ($2.8 billion) project to recreate all 126 of Yuanmingyuan's key areas on a 400-hectare site in Hengdian, Zhejiang. The project was scheduled to start later this year.
But Zong said: "I don't think the copy project will restore Yuanmingyuan's glory and splendor" as only 70 percent of the historical data about the garden are available.
He also criticized the company for violation of intellectual protection rights.
"We reserve the right to resort to legal means," he said, adding that the matter has been reported to the State Administration of Cultural Heritage.
An official with the administration, who did not want to be named, was also againt the project. "We suggest that money for the replica project be used on projects for cultural heritage protection," he told China Daily Thursday.
Xu Wenrong, founder of the Hengdian Group and head of the project team, said earlier that most of the money will come from the private sector and donations.
Hengdian is famous for providing sets for Chinese films and television dramas, and the new garden would be a lucrative backdrop for imperial soap operas.
The construction plan, however, has met with fierce public criticism ever since it was announced. Many netizens have voiced opposition, accusing the company of mixing patriotism with show business.
"The replica is unnecessary because Yuanmingyuan was destroyed by the Allied Forces and the present-day ruins serve as a testimony to that period of humiliating history," said Ruan Yisan, director of the State Institute of Famous Historical and Cultural Cities at Shanghai's Tongji University.
The imperial garden was overrun in 1860 by British and French troops who burned and pillaged many of the hundreds of traditional Chinese and Western-inspired pavilions, fountains and gardens.
Agencies- China Daily