GUANGZHOU - China won the women's event at the world team table tennis championships here Saturday, beating a supercharged Singapore 3-1 in the final.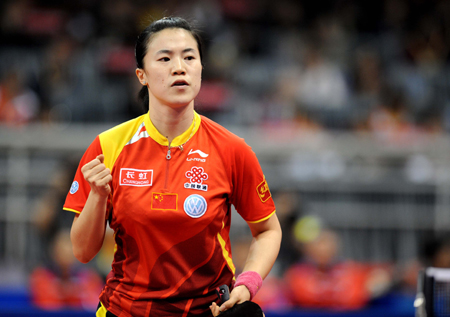 China's Wangnan reacts after winning a point during the match. [Xinhua]
It was the 17th world title for the Chinese women who had not been beaten in team championships since losing to a unified Korean team in 1991.
The heavy favorites failed to seize a lead at the beginning as reigning world champion Guo Yue trailed all the way to lose to eighth-ranked Li Jia Wei, singles semifinalist at Athens, 11-9, 13-11, 11-9.
It was the second individual game China lost throughout the whole championships, after Grand Slam veteran Wang Nan suffered a shock defeat to a much lower ranked DPR Korean player in the group play.
Despite some early jitters against Singapore's Feng Tianwei, world number one Zhang Yining kept the second game under control, winning 11-5, 10-12, 11-8, 11-6. A fired-up Feng had beaten ninth-ranked Ai Fukuhara of Japan 3-0 in their semifinal clash.
China then sent fourth-ranked Wang Nan against number six Wang Yue Gu, the highest-ranked non-Chinese paddler. The 29-year-old veteran displayed extraordinary sangfroid to win 11-5, 11-5, 11-4 although she was under pressure seeking for a berth at the Beijing Olympics.
Rarely were the mighty Chinese taken to the fourth game. Fast-attacking Zhang rallied from one set down against Li, quickly finishing the job with a 9-11, 11-8, 11-4, 11-3 victory.
Singapore had steamrolled over all before them with dominant victories since the start of the championships. They had crushed powerhouse Japan 3-0 in the semifinals.
But the defeat to China's star-studded women was not beyond the expectation of Singaporean head coach Liu Guodong, who said on Friday that there was still a large gap between his team and the world's top players.