HOUSTON -- China's giant centre Yao Ming will undergo surgery Monday to fix a stress fracture in his left foot, the Houston Rockets announced on Saturday.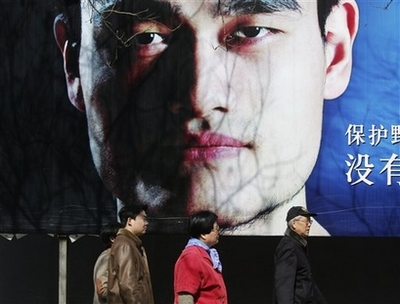 Pedestrians walk past a billboard featuring a photo of Chinese NBA star Yao Ming, on a sidewalk in Beijing Thursday Feb. 28, 2008.Yao Ming's season-ending injury prompted shock and concern in his native China on Wednesday, though hopes were high he would still make August's Beijing Olympics. [Agencies]
Yao, who is already out for the rest of the National Basketball Association's 2007-08 season and whose long anticipated Beijing Olympics campaign is in jeopardy, will have the surgery at the Memorial Hermann-Texas Medical Center in Houston. Rockets doctor Tom Clanton will perform the surgery.
Before the injury, the 27-year-old Yao was enjoying one of his best seasons in the NBA, averaging 22.0 points and 10.8 rebounds per game.
Numerous times this season Yao carried the Rockets on his giant shoulders but his teammates have rallied in his absence winning their first two games without him and extending their winning streak to 14 games. They are seventh in the Western Conference.
The injury could also impact Yao's availability to lead the host country at the Summer Olympics in Beijing in August.
Yao said on Wednesday that he is still hoping to be able to play in the Olympics.
"If I cannot play in the Olympics for my country, that would be the biggest blow of my career," he said. "I don't want to know how disappointed the people in China would be.
"I'll do the best I can to come back, get stronger, protect myself."
Yao was healthy during his first three seasons in the league but has suffered since the 2005-06 campaign, when a toe injury saw him miss 21 games between December and January. He also suffered a broken foot in April 2006, ending his season.
A year later, Yao fractured the right tibia in his foot on December 23 and did not play again until early March, interrupting a season in which he had put up MVP-calibre numbers.

Fit for Olympics
Yao Ming believes he will be fit for the Beijing Olympics despite facing an operation on a fractured foot, his Chinese agent said on Sunday.

Yao is expected to need three or four months' rest after an operation which China's state broadcaster said he would undergo in Houston on Monday. That would leave around two months to prepare for the Games which open on August 8.

"He (Yao) believes those two months are enough time to recover," his agent Zhang Mingji said in an interview with the Beijing News.

"I believe that by the Olympics, Yao Ming will have recovered 100 percent," Zhang added.
China's Olympic basketball medal hopes are pinned on Yao, who had averaged 22 points and 10.8 rebounds for the Houston Rockets before his NBA season was cut short.

Zhang dismissed suggestions that Yao's injury was a result of playing too many matches.
"His bone fracture is not because he was played too much, it's a problem that arose because of the structure of his foot," Zhang said, explaining that Yao had high arches.

The 27-year-old is China's most popular sportsman and is a leading candidate to fulfil the prestigious role of lighting the cauldron at the Games' opening.