GUANGZHOU, China -- China claimed the men's team title at the world team table tennis championships after storming over the ambitious South Korea on home turf Sunday.
The victory was scored one day after China edged out Singapore to win the women's team title.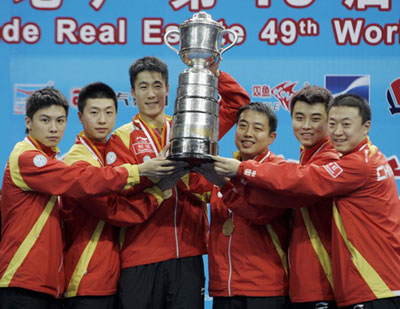 Members of China's men's table tennis team (from L) Chen Qi, Ma Long, Wang Liqin, coach Liu Guoliang, Wang Hao and Ma Lin pose with their trophy on the podium after beating South Korea in the men's final of the World Team Table Tennis Championships in the southern Chinese city of Guangzhou March 2, 2008. [Agencies]
It was the 16th Swaythling Cup, or the fourth in a row, that the star-studded Chinese team has lifted.
China took the initiative of the playoff with world No. 2 Ma Lin playing smartly to overcame Olympic champion Ryu Seung Min 3-1 in the first outing.
Ryu said earlier that he'd like to take on Wang Hao in the final to satisfy Chinese people. Wang lost to Ryu in the final of the Athens Olympic Games but never since.
Ma's lead was followed by Wang Hao, the newly crowned World Cup champion, who fended off ferocious attacks of 39-ranked Lee Jung Woo and enlarged the Chinese advantage to 2-0.
Unbeaten in this competition since 2000, China was deemed as the strongest among all squads with the world's four top players. The title favorite hardly broke into a sweat as it eased past all rivals in the week-long tournament losing only one point in group stage.
Triple world champion Wang Linqin stunned the audience after being outgunned by 74th-ranked Romanian Andrei Filimon in his first outing.
The 30-year-old veteran later made up for his loss in battles against Croatia, Austria and the Czech Republic. Wang admitted that being under the limelight has brought him enormous pressure.
Top-class South Korean chopper Joo Se Hyuk barely built up any threat to a determined Wang, who played actively to complete a clean 3-0 sweep for the Chinese in the final.
Liu Guoliang, head coach of Chinese men's team credited Wang's performance as immaculate, saying he did not let go a single chance to the advantage of his rival.
Wang said that he had shaken off the shadow of defeat as believing that he could play well through adequate preparation.
Liu revealed that he would accompany Wang to go to Hong Kong, preparing for the Olympic qualifier tournament.
Third-ranked Wang Liqin has to compete for the remaining berth at this summer's Beijing Olympic Games as Wang Hao and Ma Lin were already qualified for the games.
"I don't have much on mind after hearing the news and it is a chance for me to practice," said a smiling Wang at the press conference.
He added his dream is to win the Olympic singles' gold medal in Beijing.
South Korea, eyeing for its first team title in Guangzhou, has proven its mighty strength by brushing aside formidable Germany and fired-up Japan in playoffs.
After the defeat by China in the final, South Korea's head coach Kim Sang Kil said the players had tried best although the outcome was not satisfactory.
He said they would keep on practicing to compete with the world's top players in Beijing Olympic Games.
Japan, who finished 14th at the Bremen championships, rose to the third place before suffering a defeat by title-chasing South Korea 1-3. It has finished top in group stage by thumping European powerhouse Germany 3-1 in an enthralling two-hour encounter. German coach Richard Prause has praised the Japanese for their aggressive performance.
In its showdown with South Korea, Chinese-born Kan Yo trampled top-class chopper Joo Se Hyuk and reaped one single point for the Japanese team.
Its rising prodigy Jun Mizutani also impressed the spectators by challenging Ryu in a five-set marathon match.
The 18-year-old has been under training in Germany's Dusseldorf club for five years and once overpowered China's Wang Hao in 2005.
Hong Kong of China, the bronze medal winner at the last worlds, secured the same place this time. Chan Kong Wah, head coach of the team, said he had expected a gain of one or two points in playoffs with China but suffered letdown.
"It is just normal for the Chinese to win if they perform well, " he said.