GUANGZHOU - Chinese men fended off aggressive Czechs to reach semifinals of world table tennis championships Friday.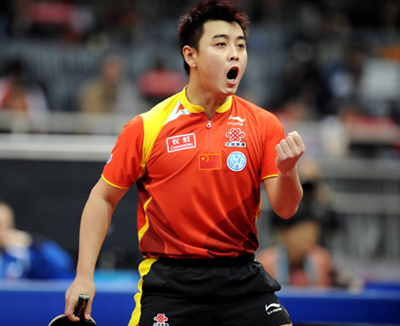 China's Wang Hao reacts after winning a point over Czech player during the men's quarter-finals of the World Team Table Tennis Championships in Guangzhou, February 29, 2008. [Xinhua] 
The star-studded team hardly came across any serious challenge as it eased past all rivals in the group stage.
Triple world champion Wang Liqin, the first on court, managed to control his nerves under ferocious attacks by the 32nd-ranked Petr Korbel and took the match 3-2.
Wang disappointed spectators by losing to 74-ranked Romanian Andrei Filimon on Monday. He later saved his pride by overcoming Croatian and Austrian opponents in the following rounds.
Following Wang's lead, second-ranked Ma Lin and newly crowned World Cup champion Wang Hao quickly thrashed the hapless Czech players, sealing the match 3-0.
In other games, Japan and Hong Kong of China made it to the semifinals after sweeping aside Chinese Taipei and Romania respectively.
China, unbeaten in this competition since 2000, will meet Hong Kong in the semifinals.