SEOUL -- In a sharp turnaround from past leaders, South Korea's new President Lee Myung-bak said on Saturday that the country should put the bitter history of colonisation by Japan behind it and move on.
"Historic truth should not be ignored," Lee said in a speech marking the anniversary of a 1919 uprising in Korea against Japanese colonial rule. "But we cannot linger in the past forever while putting the future on hold."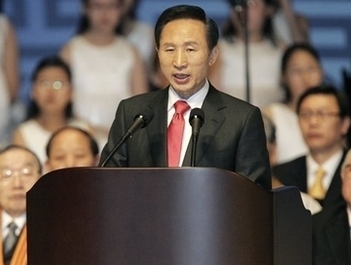 South Korean President Lee Myung-bak delivers speech during the 89th anniversary ceremony of Independence Movement Day against Japan in Seoul, Saturday, March 1, 2008. Lee called for better relations with former colonial ruler Japan on Saturday, saying his nation should look to the future without dwelling on the past any longer. [Agencies]
Japan colonised the Korean peninsula from 1910 until its defeat in World War Two in 1945. Former Japanese prime ministers have apologised for the country's colonial past, but South Korea has said Tokyo had not done enough to back its words with action.
"South Korea and Japan must begin on a future-oriented ties with a pragmatic approach," Lee said. "The age when conflict and non-compromise were virtues is over. Pragmatism must apply to all areas of politics, the economy, foreign affairs and labour."
Lee's comments marked a departure from his predecessor Roh Moo-hyun, who each year demanded Japan to apologise and prove its repentance with action.
A conservative former CEO who won December's election by a landslide, Lee took office on Monday with promises of radical changes of policy for the economy and for ties with allies the United States and Japan.
In the first summit meeting after taking office, Lee met with Japanese Prime Minister Yasuo Fukuda on Monday and agreed to revive stalled "shuttle diplomacy" and promote talks on a free trade deal.
Lee will visit Japan in the first half of 2008 and it will be reciprocated by Fukuda later in the year, officials said.
An earlier round of mutual visits was halted after former Japanese Prime Minister Junichiro Koizumi visited a war shrine seen by South Korea as a symbol of Tokyo's past militarism.
Fukuda's predecessor Shinzo Abe tried to repair ties but suffered a setback when he denied government involvement in colonial Japan's abduction of women and forced prostitution during the war.