CARACAS - Venezuela's opposition is demanding President Hugo Chavez take a drug test after he said he chews coca leaves to keep up his energy.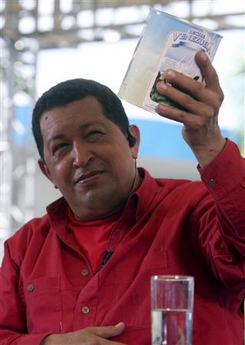 Venezuela's President Hugo Chavez holds a tin of powdered milk during his weekly broadcast 'Alo Presidente' in the town of Machiques, in the state of Zulia, January 20, 2008. [Agencies] 
The anti-US leader has repeatedly defended the use of coca leaves despite accusations by the United States that he is turning Venezuela into a "haven" for drugs from Colombia.
"We are going to ask that the President of the Republic take a toxicological exam, as would any baseball or football player," said opposition politician Antonio Ledezma, of the small party Brave People's Alliance.
"This is an apology for the consumption of drugs."
Chavez said during a January speech that Bolivian President Evo Morales, a close Chavez ally and outspoken supporter of legalizing the cultivation of coca, sends him coca paste.
Coca leaf is the raw material for making cocaine. But Andean indigenous peoples have for centuries chewed coca leaves to ease hunger and reduce the effects of altitude sickness.
"Coca is not cocaine ... I chew coca every morning and look at me," Chavez said, displaying his biceps with a chuckle during a speech to Congress.
Chavez has spoken for as long as eight hours in a single sitting, reportedly sleeps around four hours per night and is known for drinking lots of coffee and calling aides and ministers with questions in the very early morning.
US drug czar John Walters told Reuters in a weekend interview that Chavez has become a "facilitator" of drug trafficking from Colombia - the world's largest producer of cocaine - through Venezuela. Chavez rejected the charges as part of a US smear campaign against him.