Washington -- The US Federal Reserve, confronted with a global stock sell-off fanned by increased fears of a recession, cut a key interest rate by three-quarters of a percentage point on Tuesday, the biggest one-day move by the central bank in recent memory.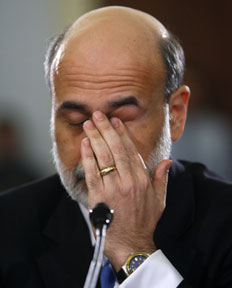 US Chairman of the Federal Reserve Ben Bernanke waits to testify before a House Budget Committee hearing on "The Near-Term Outlook for the US Economy" on Capitol Hill in Washington, in this January 17, 2008 file photo. [Agencies] 
The Fed said it was cutting the federal funds rate, the interest that banks charge each other on overnight loans, to 3.5 percent, down by three-fourths of a percentage point from 4.25 percent.
The Fed action was the most dramatic signal it can send that it is concerned about a potential recession in the United States. It marked the biggest one-day move by the US central bank in recent memory.
The Fed decision was taken during an emergency telephone conference with Fed officials on Monday night. Those discussions occurred after global financial markets had plunged Monday as investors grew more concerned about the possibility that the United States, the world's largest economy, could be headed into a recession.
In a brief statement, the Fed said it had decided to cut the federal funds rate "in view of a weakening of the economic outlook and increasing downside risks to growth."
The US central bank said that the strains in short-term funding markets have eased a bit, but "broader financial market conditions have continued to deteriorate and credit has tightened further for some businesses and households. Moreover, incoming information indicates a deepening of the housing contraction as well as some softening in labor markets."
The move caught financial markets by surprise. Many had expected the central bank would wait until its meeting next week to make any move in interest rates. The Fed made the move before markets had opened in the United States, hoping that the bold move would limit the decline in US stocks.