Gaza City -- Israel eased a blockade of Gaza imposed in retaliation for militant rocket attacks, allowing in some food and fuel Tuesday after the UN warned that international food aid to the impoverished territory may have to be suspended by the weekend.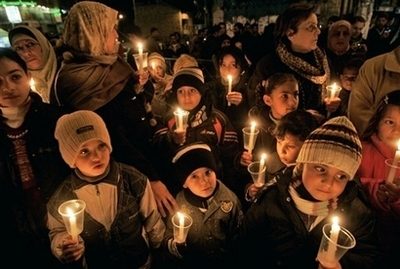 Palestinian children and women hold candles during a demonstration in support of Gaza, in the West Bank city of Ramallah, January 21, 2008. [Agencies]
Israel pumped cooking oil and fuel for Gaza's power plant through the Nahal Oz crossing. It was also expected to allow a single shipment of fuel, food and medicine into Gaza through the Kerem Shalom crossing.
The closure imposed after a spike in rocket attacks last week cut off fuel supplies. On Sunday, Gaza's Hamas rulers shut the strip's power plant, leaving one-third of the 1.5 million people without electricity. Gas stations and many bakeries closed, and health officials warned of an impending crisis in hospitals running low on generator fuel.
The cutoff of fuel prompted condemnation from aid and human rights groups. Egyptian President Hosni Mubarak called Israeli Defense Minister Ehud Barak on Monday and urged him to ease restrictions.
Before agreeing to Tuesday's one-time shipment, Israeli Prime Minister Ehud Olmert strongly defended the blockade.
He told legislators from his Kadima Party he will not allow a humanitarian crisis to develop. But he said Gaza's residents won't be able to live a "pleasant and comfortable life" as long as southern Israel is under rocket attack.
"As far as I'm concerned, Gaza residents will walk, without gas for their cars, because they have a murderous, terrorist regime that doesn't let people in southern Israel live in peace," Olmert said.
Even after agreeing to the one-time shipments, Israeli Defense Minister Ehud Barak maintained a tough tone. Speaking at the annual Herzliya Conference on security, Barak said he was prepared to hit Gaza in order to restore calm in Israeli towns battered by rockets from Gaza.
"I care more about our quiet than their quiet," he said.
Gaza's Hamas government issued emotional appeals to the Arab world, and demanded that Egypt open its border with Gaza to allow in supplies.
"We are asking Arab and Muslim nations not to leave the Palestinians alone to face the terrorist country of America and the Zionist entity," said Gaza's Hamas strongman, Mahmoud Zahar, in a televised speech.
During the past seven months, since the Islamic militant Hamas violently took over Gaza, Egypt joined Israel in severely restricting access to territory, largely keeping its border terminal closed. An opening of the Gaza-Egypt border would mark a victory for Hamas, enabling it to claim credit for restoring the flow of supplies and stabilizing its rule.
However, it appears unlikely Egypt will do that because it is concerned about a spillover of Hamas-style militancy into its territory if the border is open.
Israeli Foreign Ministry spokesman Arye Mekel said enough fuel would be shipped to power the Gaza electric plant for a week, as well as fuel for hospital generators and cooking gas. Also 50 truckloads of humanitarian aid, including medicine, will be allowed in.
Hamas spokesman Sami Abu Zuhri dismissed the gesture.
"This does not mean the end of the siege on Gaza," he said, pledging to continue to fight "until we break the siege."