TOKYO -- Asian stock indexes rose sharply Wednesday, rebounding from steep losses in the previous two days after a surprise interest rate cut by the US Federal Reserve.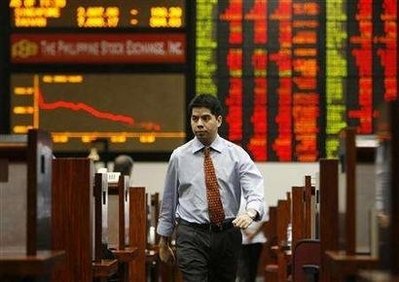 A trader walks out of the trading floor at the Philippine Stock Exchange in Manila's Makati's financial district January 22, 2008. [Agencies]
Japan's benchmark Nikkei 225 index gained 423.82 points, or 3.37 percent, to 12,996.87 points on the Tokyo Stock Exchange in early trading. It had fallen 5.7 percent Tuesday -- its biggest percentage drop in nearly 10 years -- on fears of a recession in the US
The Korea Composite Stock Price Index rose as much as 3.1 percent in the opening minutes of trading. The Kospi slightly pared gains to trade up 2.7 percent at 1,652.39 about 30 minutes into the session. The Kospi fell 4.4 percent Tuesday and 3.0 percent Monday.
European stocks fell sharply at their opening Tuesday, then rose in volatile trading ahead of the Fed's decision to cut its key rate to 3.5 percent from 4.25 percent, and rose even more afterward. The UK's FTSE 100 finished up 2.9 percent at 5,740.10, while France's CAC 40 gained 2.1 percent to 4,842.54. In Germany, the DAX ended barely down, off 0.3 percent at 6,769.47, as utilities RWE and E.On fell but financials such as Deutsche Bank rose.
The surprise Fed move was aimed at fears that trouble in financial markets from the US subprime crisis was spreading to the broader economy. Interest rate cuts tend to boost stocks. The Canadian central bank quickly followed, lowering its key rate by a quarter of a percent to 4 percent.
Just hours before the Fed decision, Japan's central bank voted unanimously to leave its benchmark interest rate unchanged at 0.5 percent. The European Central Bank — highly sensitive to any suggestion that it is not fully independent -- also held steady at 4 percent.
Some analysts now say the ECB -- which has been worried about inflation -- may have to follow the Fed and start cutting later this year.
European officials, however, insisted Tuesday that their economies would be able to weather the turbulence from the United States. The European Union's economic and monetary affairs commissioner, Joaquin Almunia, said that big US trade and budget deficits were to blame. "The main reason why the equity markets have this extreme volatile situation these days is the risk of a recession in the U.S., it's not about a global recession," Almunia said.
British Prime Minister Gordon Brown's spokesman Michael Ellam said that "the fundamentals of the British economy have remained sound" and the government would do everything in its power "to maintain economic stability."
But Ellam would not comment on whether British interest rates should be cut in response. Many observers believe the Bank of England, which is independent of the British government, will cut rates at its next meeting Feb. 7.
Before the Fed's move, the Nikkei nose-dived to 12,573.05 Tuesday, a day after falling 3.9 percent, and Hong Kong's Hang Seng fell 8.7 percent, adding to its 5.5 percent drop on Monday. Australia's benchmark index sank 7.1 percent, its steepest one-day slide in nearly 20 years. In China, the Shanghai Composite index lost 7.2 percent to 4,559.75, its lowest close since August.
Indian Finance Minister P. Chidambaram urged investors to remain calm after trading in Mumbai was halted for an hour when the stock market there fell 10 percent within minutes of opening. The Sensex climbed back to close down 5 percent after plunging 7.4 percent Monday.
"There is no reason at all to allow the worries of the Western world to overwhelm us," Chidambaram said.
Investors had dumped shares in frenetic trading on worries that the US economy, battered by a credit crisis and housing slump, will shrink in coming months, weakening demand for exports. There is also skepticism that American authorities will be able to prevent a recession.
The Federal Reserve has indicated it will lower interest rates further, and President Bush has proposed an economic stimulus package that includes about $150 billion in tax cuts -- but investors around the world have been doubtful that the measures will lift the economy quickly.
Noritsugu Hirakawa, who monitors stock trading at Okasan Securities Co. in Tokyo, said investors were spooked by the drastic declines on Chinese and Indian markets -- two emerging economies that are viewed as sustaining global growth even as the US economy sputters.