BEIJING - China's authorities shut down 44,000 domestic websites and homepages and arrested 868 people while investigating 524 criminal cases in a campaign against Internet pornography last year, a national teleconference has heard.
Another 1,911 people involved in 1,609 Internet pornography activities were penalized, while the authorities canceled more than 440,000 pornographic messages online.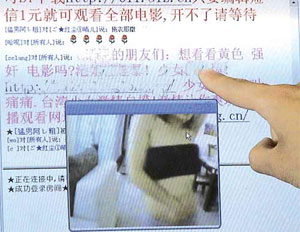 A porn website image. [File photo] 
A total of 199,000 websites were registered by the authorities last year, but another 14,000 were refused the access to the Internet for failing to get official registration or to apply for official approval.
The campaign will continue until September, after the Beijing Olympic Games ends, the meeting, jointly organized by the Ministry of Public Security, the Publicity Department of the Communist Party of China (CPC) Central Committee and 11 other central departments, heard.
A statement from the meeting said "pornographic sources" were located in foreign countries and regions, while China was the "soil" for the growth of pornographic websites.
The crackdowns would focus on those who profited from spreading pornographic messages via the Internet and mobile phones, porn-site operators in foreign countries and Chinese Internet users, organizers of pornographic performances online and clients of prostitution.
The authorities will give special attention to websites that deal in audio and visual programs, blogging, videos, point-to-point services, and mobile phone sites.