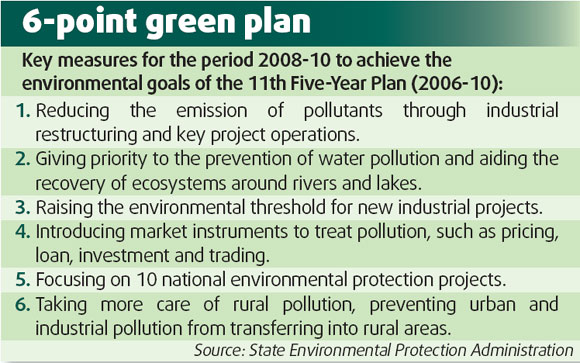 The State Environmental Protection Administration (SEPA) yesterday outlined its plan to significantly reduce air and water pollution this year.
It aims to cut up to 2.3 million tons of sulfur dioxide (SO2) emissions and 1.3 million tons of chemical oxygen demand (COD), a measure used in the monitoring of pollution.
SEPA director Zhou Shengxian said yesterday in Beijing that this year's targets are to reduce SO2 by 6 percent and COD by 5 percent based on their 2005 levels, which serve as the base for the environmental goals of the 11th Five-Year Plan (2006-10).
By 2010, the plan is to reduce both SO2 and COD levels by 10 percent, based on 2005 figures.
"Industrial restructuring will play a fundamental role in curbing pollution," Zhou said.
He said more high energy consuming and high polluting power plants will be shut down this year, including a number of small-sale thermal power plants with a combined output of 13 gigawatts, steel plants with a total capacity of 6 million tons, cement plants with a combined output of 50 million tons, iron production facilities with a total capacity of 14 million tons, and papermaking factories producing a combined 1 million tons.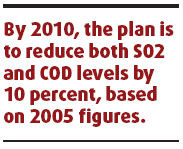 "This phase-out plan, if achieved by the end of this year, will help China reduce its emissions of SO2 by 600,000 tons and cut the COD by 400,000 tons," Zhou said.
Key eco-friendly projects will also be implemented, Zhou said.
The country's urban wastewater treatment capacity is to be increased by 12 million tons a day, which will cut COD by 600,000 tons.
In addition, industries will be required to strengthen their wastewater treatment capacities and will be expected to decrease COD by 200,000 tons a year.
In terms of air pollution, the use of sulfur scrubbers to clean emissions will be emphasized.
New thermal power generation units with a combined capacity of 30 gigawatts will be installed with sulfur removal capabilities, which is expected to reduce SO2 emissions by 1.5 million tons.
Measures taken by the central government and environmental agencies last year also saw progress being made in the green battle.
The density of COD in water resources was 6.5 mg per liter, down 7 percent on 2006.
A reduction in SO2 emissions also saw the area of land affected by acid rain shrink by 100,000 sq km.
The number of blue-sky days with good air quality was also up on the previous year.
However, the fight against pollution is far from over, Zhou said.
SEPA figures showed that last year, the quality of more than 26 percent of water runoff was worse than grade V - a level unfit for human contact.
The air quality in cities on more than 100 days was below grade II, the level at which it is considered healthy for humans.