NEW YORK - An unusual emergency interest rate cut by the Federal Reserve gave Wall Street a partial rebound Tuesday from a precipitious early decline - and perhaps the first steps toward a long-term recovery. The rest of the comeback, for the economy as well as the stock market, may depend on a turnaround in the battered housing market and renewed confidence among U.S. consumers.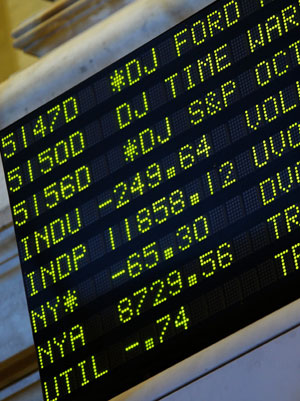 A sign above the floor of the New York Stock Exchange shows the Dow Jones Industrial Average just after opening in New York January 22, 2008. Stocks fell as fears of a recession gripped investors and pushed the Nasdaq briefly into bear market territory. [Agencies] 
The Dow Jones industrial average, down 465 points shortly after trading began, bounced around throughout the session before closing with a milder drop of 128.11, or 1.06 percent, at 11,971.19, according to preliminary calculations.
U.S. stocks began the day following the lead of markets abroad that had plummeted for two straight days, and also extended their own steep losses from last week. Fears of a U.S. recession - one that would spread to other economies had investors fleeing stocks worldwide.
The Fed, in a step anticipated by many traders, moved before the opening of trading, cutting its benchmark federal funds rate by 0.75 percentage point to 3.50 percent and the discount rate, the interest the Fed charges banks directly, to 4 percent. What was unusual was the reduction's coming between regularly scheduled meetings of the central bank's policy-making Open Markets Committee; the next gathering is a week away.
Also, the cut was larger than the half-percentage point expected to be announced at the end of that two-day meeting, and the widest cut in the target fed funds rate on records going back to 1990.
The fact stocks didn't continue their steep plunge - the Dow fell 277 points on Tuesday and 307 on Thursday was a positive sign, but economists and analysts said a full recovery wasn't likely in the near term.
Special coverage:
China Stock Market
US Subprime Crisis
Related readings:


 Fed cuts key US interest rate


 Shanghai index down 7.2%, Hang Seng crashes

 Dow industrials are set to drop 500


 Asian markets tumble on US worries
One of the market's greatest concerns is that consumers, who normally account for two-thirds of the economy, aren't in a position to spend the country back into solid growth. Even if rates continue to fall, Americans have been showing increasing signs of cutting back rather than borrowing or spending, even during the holiday season.
"People are up to their eyeballs in debt, and they're being asked to borrow more," said Mike Schenk, senior economist for the Credit Union National Association.
"This is a cure for the wrong disease. It makes everybody feel good, but it's not going to have any ongoing benefit," said Daniel Alpert, managing director of Westwood Capital LLC. "We need to get ourselves out of a mountain of debt and overvalued properties."
But interest rate reductions are one strategy the Fed has used in previous crises to help the economy recover. A rate cut tends to spur the economy by making it cheaper for businesses to borrow money. It would also lighten the burden on people with credit card debt and mortgages that have adjustable rates.