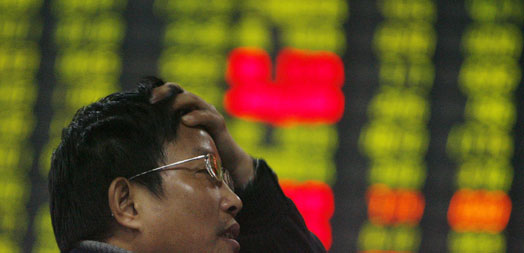 A man stands in front of an electronic board at a stock exchange in Shanghai January 22, 2008. China's main stock index ended Tuesday morning more than 4 percent lower because of sliding overseas markets and the prospect of big supplies of new shares, though blue chips came well off their early lows. [Agencies]
Chinese stock markets tumbled for a second day Tuesday, as worldwide worries about an imminent US recession led to panic selling, on a scale never seen since the 2001 September 11 terror attack.
The Shanghai stock composite index plummeted at close by more than 354 points, or 7.22 percent, extending Monday's 5 percent losss, while the Hang Seng index was down by 2,061.23 points, or 8.65 percent at close.
"People are worried that the worsening subprime crisis may lead to a US economic recession. This would reduce global demand of Chinese products," said Su Yanzhu, a fund manager with China Southern Fund Management Co. Ltd.
A drop of 1 percentage point in US economic growth would shave 1.3 percentage points from China's growth rate due to lower exports, Citigroup estimates.
Special coverage:
Related readings:

Asian stocks open sharply lower Tuesday

HK stocks plummet 5.49% in worst day-slump since 2001

Black Monday for Chinese stocks, down 5%

Stocks plummet on tightening measures
The daily transaction volume of the two stock exchanges, Shanghai and Shenzhen, expanded to 230 billion yuan. Nearly 1,000 stocks at the two exchanges plunged 10 percent, the biggest daily drop margin allowed by the securities exchanges. 
Japan's benchmark Nikkei 225 index was down 7 percent at one point, but closed 5.65 percent lower than Monday. Trading was halted in India when the Sensex index plummeted 9.75 percent within minutes of opening. US markets were closed Monday for a holiday commemorating civil rights leader Martin Luther King.
But Wall Street future prices were down sharply, portending a plunge when trading begins at 9:30 a.m.(American Eastern Time).
Markets have been plunging amid pessimism about the ability of the US government to prevent a recession. The Federal Reserve has indicated it will lower interest rates further, and President Bush has proposed an economic stimulus package that includes $145 billion in tax cuts, but investors around the world are doubtful that the measures will lift the economy quickly.
"Unless we get some positive 'shock effects,' such as drastic measures from the US government, there is almost no hope for a recovery in stocks," said Koji Takeuchi, senior economist at Mizuho Research Institute in Tokyo.
The American economy has been battered by a slump in the housing market and a credit crisis that has led to billions of dollars of losses among major US banks.
Some analysts predict that Asia won't suffer dramatically from a US recession because increased trade and investment within Asia has made the region less reliant on the United States than in the past. Excluding Japan, 43 percent of Asia's exports go to other nations in the region.
But on Monday and Tuesday , uncertainty and pessimism reigned.
Trading in Bank of China was suspended Tuesday in Shanghai pending an major announcement amid reports it might post lower profits or even make a loss in 2007.
China's third largest bank could announce a significant write-down on its US$7.95 billion of investments in securities linked to US subprime mortgages, Hong Kong press reported Monday.
Senior Chinese banking regulators have warned that Bank of China as well as the Industrial and Commercial Bank of China and China Construction Bank, would have to make provisions for all their subprime-linked assets, the South China Morning Post reported.
Bank of China stock has slumped since Monday on the newspaper report but the bank said Tuesday it was "not aware of any reasons for such movement," according to a statement filed with the Hong Kong Stock Exchange.
Ping An Insurance of China saw its Shanghai shares suffer their 10 percent daily limit down in two consecutive session after annoucing on Monday a plan to raise some 150 billion yuan through new shares and bonds, the largest re-financing plan in the history of the country's stock market.
That sparked fears that other big firms might follow suit, resulting in a jump in the number of outstanding shares. In theory, when supply outstrips demand, the price will fall.
Hua Sheng, an industry analyst and president of YanJing Oversea Chinese University, said the drop was "normal and positive" because it helped squeeze out assets bubbles.
Stocks in Shanghai trade at an average 55.36 times earnings per share on Monday, according to figures from the Shanghai Stock Exchange. That compares with less than 20 in developed markets.
Another analyst who declined to be named said he expects the downward trend to continue through August.