Shanghai Composite Index
Source: www.sina.com.cn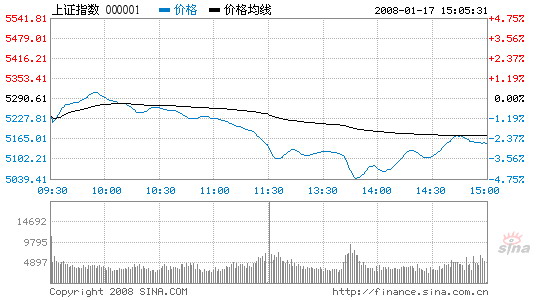 Chinese shares continued to lose ground on Thursday, with the Shanghai Composite Index falling 2.63 percent or 138.98 points to 5,151.63, on tightening measures and price curb policies.
Dragged by agricultural shares, the benchmark stock index closed lower for the third day in a row, almost loosing its 5,000-point foothold again and when it hit 5,039.79 in the afternoon, dropping over 4 percent, before edging back toward the close.
Of the A shares listed in Shanghai, 624 stocks fell to lower territories, while the remaining 220 either remained unchanged or up a little.
PetroChina, the heaviest weighted stock in Shanghai, slipped 2 percent to 29.04 yuan. Index drivers bank, insurance and securities shares were mostly down. Stocks in the information technology industry were the most resistant, although their share bases were too small to lift the market.
Shenzhen Component Index 
Source: www.sina.com.cn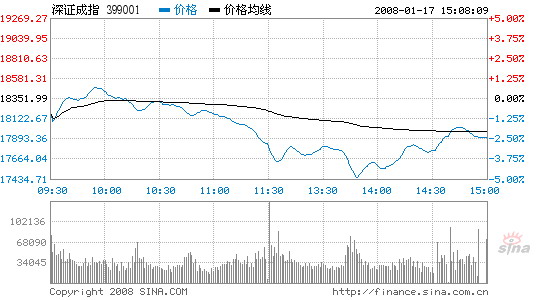 The Shenzhen Component Index, tracking the smaller Shenzhen Stock Exchange, closed at 17,910.39, down 441.61 points or 2.41 percent. Total turnover at the two exchanges was 268 billion yuan, the largest this week.
The government has started to temporarily intervene in the market to control the prices of a range of daily necessities such as grain and meat, and rein in inflationary pressure.
In an effort to soak up excess liquidity in the market, the PBOC has hiked the reserve requirement ratio 50 basis points to a record high 15 percent - meaning that there will be less cash available when the new law goes into effect on January 25.
With continuous price corrections, the Chinese market joined the world's stock price plunges. Fears of a US recession and concerns about widening losses among top global financial institutions, such as Citigroup, from the subprime mortgage crisis, have put Asian stock markets under pressure. The Hong Kong stock exchange dived 5 percent yesterday.