CARACAS - Venezuelan President Hugo Chavez announced a major cabinet reshuffle on Thursday after a poll defeat last month wrecked his hopes of winning new powers to push ahead with his proposed social revolution.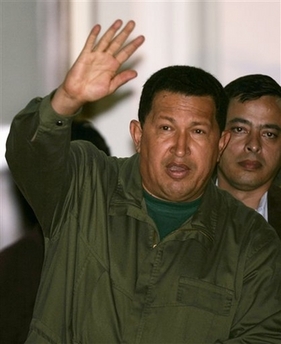 Venezuela's President Hugo Chavez gestures while speaking to the media prior to a meeting with relatives of the Colombian hostages at Miraflores Presidential Palace in Caracas, Monday, December 31, 2007. [Agencies]
Chavez named a soft-spoken replacement for his combative vice-president, Jorge Rodriguez, and said he was making 12 other cabinet changes.
Rodriguez was blamed by many government supporters for the referendum defeat in December, when voters rejected Chavez's bid for new powers and the right to run for reelection indefinitely
In recent days, Chavez has dropped his grandiose revolutionary speeches and has instead promised to tackle issues like crime and garbage collection that more directly affect his grass roots supporters.
In a telephone call to state television, Chavez said his new vice president is Ramon Carrizales, a former housing minister. He did not give details on most of the 12 other cabinet changes.
Chavez said it was important to reach out to Venezuela's middle class and other sectors of society often alienated by his pro-poor policies.
"We are not extremists and we cannot be. We have to look for alliances with the middle classes," he said, adding that he had no plans to eliminate private property, a fear of many of his opponents.