The United States encourages high-tech exports to China, US Commerce Secretary Carlos M. Gutierrez has said amid calls in his country for suspension of a program under which high-tech products are sold to China.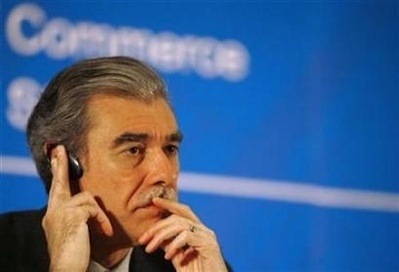 US Commerce Secretary Carlos Gutierrez listens to a speech at the China-US Innovation Conference in Beijing December 10, 2007. [Agencies]
"We look forward to increasing our exports to China, particularly high technology exports," Gutierrez told the China Daily website.
US controls on exports of high-tech products to China have been a heated topic between the two countries. Washington has adopted a validated end-user program, under which approved Chinese companies are allowed to import certain high-tech goods for civilian use without obtaining individual licenses.
Beijing says the program blocks imports of high-tech products from the United States, but some in the country argue that certain exports to China might threaten US national security.
The Wisconsin Project on Nuclear Arms Control, a non-profit research group, said in a report this week that the program "increases the risk American goods will be illicitly sold to Syria or Iran or help China improve its armed forces", and called on the US commerce department to suspend it.
Gutierrez - replying to questions sent by China Daily before the Wisconsin Project report was released - said one of the important outcomes of the Joint Commission on Commerce and Trade (JCCT) last month in Beijing was the signing of the "Guidelines for US-China High Technology and Strategic Trade Development".
Related readings:



 US to boost high-tech products export to China


 Ministry: China to face possible export slump


 China overtaking US as Japan's biggest export market


 Wu Yi: China is no threat to anyone
"They are an important step toward working cooperatively to increase US exports of high technology to China," he said.
Li Zhongzhou, a former senior Chinese WTO negotiator, said the guidelines reflect progress but are not enough.
"China does expect to increase high-tech imports from the United States, which lag behind the European Union and Japan. But they face too many restrictions," he said.
Acknowledging China as the fastest growing export market of the United States, Gutierrez said: "This agreement will encourage the development of safe, secure high technology and strategic trade between our two countries.
"It is a result of our ongoing dialogue and cooperation, and underscores the importance of forums like the JCCT."
He said a growing China is good news for the United States, too.
"China's growth presents opportunities for US exporters," he said. "China's growing middle-class creates opportunities for US companies to bring goods to Chinese consumers. In turn, this will grow US exports, which is an important part of our economic agenda."
According to official figures, imports from the US increased 17.7 percent year-on-year to $63.49 billion in the first 11 months last year.
"As China continues to strengthen its intellectual property laws and establish further transparency and predictability in its regulations and laws that govern business and investment, it will become an even more attractive market for foreign investment and truly become a 'land of opportunity' for US companies and others around the globe," Gutierrez said.