WASHINGTON - President George W. Bush was told in August that Iran may have suspended its nuclear weapons program, the White House said on Wednesday, a day after Bush said he was not given a full report on the issue.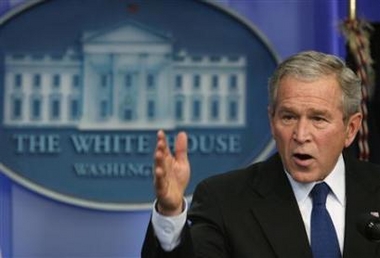 President Bush answers questions during a news conference at the White House in Washington December 4, 2007. [Agencies]
A new intelligence estimate released on Monday said Iran had stopped its nuclear weapons program in the fall of 2003, raising questions about whether the president was aware of that when he increased his rhetoric against Tehran.
Bush for months has called Iran a threat and in October raised the specter of World War Three if it acquired a nuclear weapon.
Some Democrats seized on this week's intelligence report to suggest Bush took an aggressive stance against Iran even though he knew that US intelligence had a different picture of the threat posed by Tehran.
During a news conference on Tuesday, Bush said he was informed of the intelligence report last week, but said US intelligence chief Mike McConnell told him in August there was new information on Iran.
"He didn't tell me what the information was. He did tell me it was going to take a while to analyze," Bush said.
On Wednesday, White House spokeswoman Dana Perino said McConnell told Bush in August that Iran may have suspended its nuclear weapons program and that the new information might cause the intelligence community to change its assessment on Iran.
McConnell told the president that new information had been obtained on Iran just as the intelligence agencies were about to finalize the report and that they would not be able to meet a congressional deadline for the estimate, she said.
"He (McConnell) said that if the new information turns out to be true, what we thought we knew for sure is right. Iran does in fact have a covert nuclear weapons program, but it may be suspended," Perino said.