LOS ANGELES -- Despite rising oil prices, sinking housing prices and a turbulent stock market, the US economy will escape recession in 2008, said a UCLA (University of California, Los Angeles) study released Wednesday.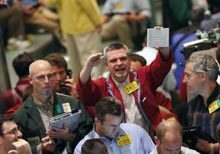 Traders work in the Oil Futures pit at the New York Merchantile Exchange in New York Nov. 21, 2007. [Agencies]
According to the quarterly UCLA Anderson forecast, California and other parts of the country will be saved by some apparent weak spots in the economy.
The loss of 3 million manufacturing jobs early this decade means there is little room to cut more positions, while most of the damage to the economy from the current housing slump will be over by the end of next year, the report said.
Meanwhile, the weak dollar will help US exports, aiding manufacturers in California and elsewhere in the country.
Related readings:


 A silver-lining for US economy


 Bernanke: US economy likely to slow


 Survey: US economy to avoid slump


 US to experience near recession of economy: study

 Official warns of slowing US economy

 US economy grows at fastest pace in a year


 Subprime Crisis Aftermath
UCLA economists said in the report that California's economic outlook mirrors the country as a whole, "It gets pretty ugly, but still no recession."
The state will be hit hard by the weak real estate market, falling government revenue and the Hollywood writers' strike.
The US Federal Reserve will meet Tuesday and is widely expected to cut its benchmark interest rate for a third time to help avoid a recession. That reduction -- and more next year -- will be needed to ward off a recession, the forecast said.
The report also predicted that US stock markets would rise 10 percent to 12 percent next year amid calming credit markets and modest economic growth.