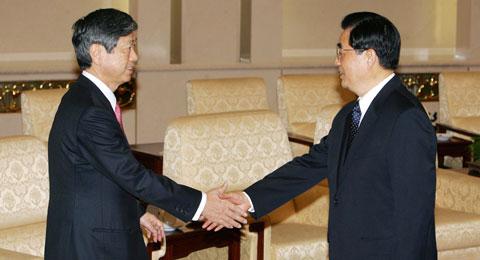 Japan's visiting Foreign Minister Masahiko Komura (L) shakes hands with China's President Hu Jintao (R) at the Great Hall of the People in Beijing December 3, 2007. [Agencies]
President Hu Jintao will visit Japan next year, Foreign Ministry spokesman Qin Gang said Tuesday.
He, however, said the exact date for the visit will be set by the two sides through diplomatic consultations.
China and Japan share common understanding on maintaining and enhancing high-level visits and exchanges, Qin said.
President Hu's Japan trip will be the first visit by a Chinese head of state in a decade.
Hacking charge baseless
China Tuesday denied a media report saying Beijing was engaged in cyber espionage activities against British businesses, and said it was an "irresponsible act".
The Times, London, reported over the weekend that head of Britain's spy agency MI5 Jonathan Evans had sent letters to 300 executives and security chiefs of banking, accounting and legal firms, warning them that "Chinese state organization" was stealing their confidential information by hacking into their computer systems.
Reacting to the allegation, Qin said Tuesday: "We express our strong dissatisfaction. This is a very irresponsible act."
"China is firmly opposed to hacking and has introduced several laws to protect Internet security," Qin said at a regular press briefing.
Chinese and British authorities at present are cooperating to find out ways of combating cyber attacks. He said China hoped the cooperation was based on facts and mutual respect.
Qin said China itself is sometimes the victim of cyber crime and that hackers have targeted its computer networks.
Gordon Brown trip soon
Qin said British Prime Minister Gordon Brown will visit China soon, but the exact date is yet to be finalized.
During the visit, Brown's first to China since he became prime minister in June, the two sides will discuss issues of common concern and major international topics.

Iran Nuclear Issue
China will continue to play a constructive role in seeking a peaceful solution to the Iran nuclear issue, the Foreign Ministry said Tuesday.
"Our position on the Iran nuclear issue is consistent," spokesman Qin Gang said when asked about a telephone conversation Tuesday between Foreign Minister Yang Jiechi and his US counterpart Condoleezza Rice.
During the talks, Yang said China supports the international nuclear non-proliferation regime, and seeks to resolve the Iran nuclear issue through negotiations, the spokesman said.
Yang told Rice that China would continue to coordinate with the United States and other concerned parties in discussions.
"We hope Iran can fulfill its UN resolution obligations and cooperate with the International Atomic Energy Agency and maintain active contact with other parties to create favorable conditions" for the peaceful resolution of the nuclear issue, Qin told a regular press briefing.
Xinhua contributed to the story