Lenovo Group, the only worldwide Olympic partner from China, said Tuesday it will not renew its sponsorship contract with the International Olympic Committee (IOC) after the Beijing 2008 Olympic Games.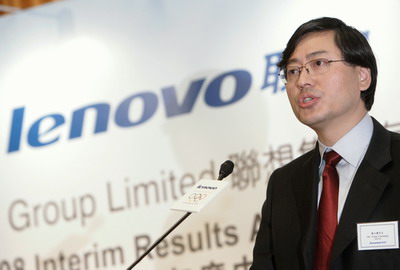 Lenovo Chairman Yang Yuanqing addresses a conference on the company's second fiscal quarter of 2007/08 results in Hong Kong November 1, 2007. [Agencies]
The computer giant stated on its website it will focus on a "regional sports marketing strategy" after the Beijing Games instead. It will end its partnership with the IOC in December next year, four months after the closing of the Beijing Games.
"In order to make Lenovo a brand known worldwide, the company will be more focused on event sponsorship for strategically targeted markets, which will better meet the needs of deepening the development of Lenovo in particular countries and regions," the statement said.
In March 2004, Lenovo signed a deal with the IOC to join the Olympic partner program for the 2005-08 period. The deal included sponsorship of both the 2006 Turin Winter Games and the 2008 Beijing Summer Games, during which the company would be the sole computer technology equipment provider.
Lenovo officials said the company has achieved its goals in sponsoring the two Games and that it was a rational decision not to renew the contract.
"The decision to join the Olympic sponsorship was in line with our internationalization strategy at that time, when we needed to increase the brand presence globally," Daisy Chen, corporate communications director of Lenovo Greater China, told China Daily.
"We have benefited much from the Olympic sponsorship in recent years."
Lenovo made its mark at the 2006 Turin Winter Games, during which it offered 5,000 computers, more than 600 notebook PCs, 400 servers and 1,600 printers.
For the upcoming Beijing Games, it will provide about 20,000 computing devices, including desktops, laptops, computer servers and display monitors, and more than 500 engineers to provide support.
"Through sponsoring the Olympic Games, Lenovo will emerge as a global brand from just a local one," said Chen.
"I believe that, with the approach of the Games, the brand will benefit more."
The company said it is now focusing on preparing for the Beijing Olympic torch relay and a series of related global brand promotion campaigns, as well as building up and ensuring the smooth running of the Beijing Olympic information system platform.
Looking beyond the Games, Chen said the company will be joining more regional sports events, "such as the NBA and Formula One".