ISLAMABAD -- The election officials in eastern Pakistan's Lahore city on Monday disqualified former Prime Minister Nawaz Sharif to stand in the upcoming parliamentary elections, the News Network International news agency reported.
The election officials rejected the nomination papers of Nawaz Sharif on the grounds that Sharif was convicted in corruption cases in 2000 and that a convict person can not stand in the elections.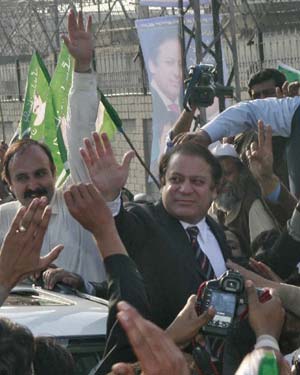 Pakistani opposition leader Nawaz Sharif waves to his supporters upon his arrival at Islamabad International Airport Islamabad Dec. 3, 2007.[Agencies]
Sharif can file an appeal against the rejection of his nomination papers before December 7, said the report. Sharif had registered himself with the elections officials to contest polls on a National Assembly seat in Lahore.
According to a schedule unveiled by the Election Commission of Pakistan, a final list of eligible candidates will be made public on December 16.
Sharif, top leader of the opposition Pakistan Muslim League-Nawaz (PML-N), will hold a meeting with another major opposition party People's Party (PPP), led by former prime minister Benazir Bhutto in a bid to convince the latter to join the opposition parties' boycott of the general elections.
Talking to reporters here, Sharif said he would work for the restoration of judiciary even if his nomination papers were rejected 10 times.
The All Parties Democratic Movement, an alliance of over 30 opposition parties including PML-N announced on November 29 that they would, in principle, boycott the general elections, which are scheduled to be held on January 8, 2008.
The meeting between Sharif and Bhutto will likely work out a final decision of the opposition parties for the general elections, the report said.