UN Climate Change Conference poised for breakthrough
(Xinhua)
Updated: 2007-12-03 20:07
Bali -- The United Nations Climate Change Conference (UNFCCC), which kicked off in Bali on Monday, is poised for a breakthrough in international climate change negotiations, said a press release of the UNFCCC.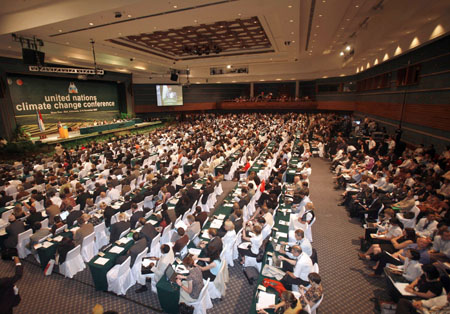 A view the opening ceremony of the United Nations Framework Convention on Climate Change (UNFCCC) in Nusa Dua, Bali, December 3, 2007. About 190 nations met on Monday under pressure to sharpen the fight against climate change. [Agencies]
The two-week conference from December 3 to 14, the 13th Conference of the 192 Parties to the UNFCCC and the third meeting of the 176 Parties to the Kyoto Protocol, is expected the result in negotiations on a climate change deal for the period post-2012, the year the first phase of the Kyoto Protocol expires.

1
2