TEHRAN, Iran -- Iran and Malaysia signed a $16 billion agreement to develop two Iranian gas fields, state-run television reported Wednesday, describing the deal as the largest energy contract in Iran.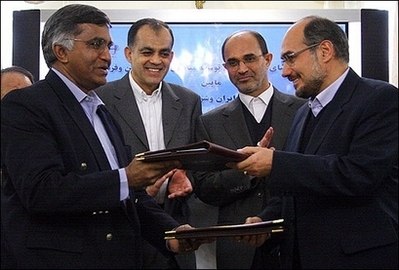 Iran's Pars Oil and Gas Company managing director, Ali Vakili(R) and Syed Mukhtar al-Bukhari(L) of Malaysia's SKS, exchange a signed agreement in front of Malaysian Ambassador to Iran Datu Munshe Afdzaluddin(2ndL) and Iran's Oil Minister Gholam Hossein Nozari in Tehran December 26, 2007. [Agencies]
Iran's Pars Oil and Gas Company (POGC) and Malaysia's SKS Ventures signed the multibillion dollar contract to develop Golshan and Ferdows gas fields in southern Iran.
The contract was formally signed by Ali Vakili, director of POGC, and Mokhtar Al-Bokhari, director of SKS Ventures, in the capital Tehran on Wednesday, according to the report.
"This contract worth $16 billion. Some $6 billion is for development of offshore and $10 billion for development of onshore gas fields for a period of 25 years," Vakili told the official IRNA news agency.
Iran's Oil Minister, Gholam Hossein Nozari, said the deal was a vindication of his country's efforts to counter pressures to isolate his nation.
"This is the biggest investment contract in the country's energy sector," the official IRNA news agency quoted Nozari as saying.
Nozari said an economic boom in southeastern Asia has sharply increased its need for imported oil and gas and that the contract with Malaysia has to be seen in that light.
The reserves at the Golshan gas field, 65 kilometers from the southern port city of Bushehr, is estimated more than 50 trillion cubic feet of gas and it is expected to produce 2.5 billion cubic feet of natural gas per day.
The Ferdows' gas reserves is estimated at around 10 trillion cubic feet and it would produce more than 880 million cubic feet of gas on a daily basis.